On February 7 and 22, we hosted preeminent Dante scholars Dennis Looney and Karla Mallette as part of this lecture series that revisited the history of the epic poet Dante and explored the multiple dimensions of his enduring legacy. This series was presented by The Humanities Institute and sponsored by the Siegfried B. and Elisabeth Mignon Puknat Literary Studies Endowment, Literature Department, Cowell College, Italian Studies, and the Center for the Middle East and North Africa at Santa Cruz.
---
Watch videos of the events here.
From Levi to Dante: Redefining Humanity from the Margins
"Primo Levi and Dante. Cosmologies," by Robert Gordon (University of Cambridge): Primo Levi famously drew on Dante to map the distant and incomprehensible 'concentrationary universe' that he encountered at Auschwitz. Perhaps less well known is Levi's deep fascination, shared with Dante, for astronomy and for the mapping of the cosmos as a tool for understanding man's place in the wider universe, and thus also mankind's own history. This lecture explores Levi and Dante in parallel as two cosmologists, both in their different ways scientists and poets of the stars.
"Black Limbo: Dante, Boccaccio, and Global Ethnic Studies" by Martin Eisner (Duke University): This talk uses a fifteenth-century illumination of Dante's limbo that portrays pagan poets with black skin to explore the relationship between medieval reflections on pagans and modern ethnic studies. Highlighting how Dante's concern with cultural difference in both temporal and spatial terms informs Boccaccio's elaboration of these ideas, it shows how this accommodation of past and present pagans contrasts with earlier reflections of Augustine and Jerome, contemporary ideas of Petrarch, and later Fascist uses of Dante to which Primo Levi responds.
Robert S. C. Gordon is Serena Professor of Italian at the University of Cambridge. He works on the literature, cinema, and cultural history of modern Italy. His books include a study of Pasolini, several volumes on Primo Levi, and a wider history of Italian cultural responses to the Holocaust. He has taught at Oxford and Cambridge Universities and is a former Senior Editor of the journal Italian Studies, and a former trustee of the British School at Rome. He was elected a Fellow of the British Academy in 2015.
Martin Eisner is Chair of Romance Studies and Professor of Italian at Duke University. He is the author of Dante's New Life of the Book: A Philology of World Literature (Oxford UP, 2021) and Boccaccio and the Invention of Italian Literature: Dante, Petrarch, Cavalcanti, and the Authority of the Vernacular (Cambridge UP, 2013). He is currently working on a biography of Boccaccio for Reaktion Books's Renaissance Lives series. With a view to the 700th anniversary of Dante's death, he continues to develop the online research project Dante's Library. His articles on Dante, Boccaccio, Petrarch, and Machiavelli have appeared in PMLA, Renaissance Quarterly, Dante Studies, Mediaevalia, California Italian Studies, Quaderni d'Italianistica, Annali d'Italianistica and Le Tre Corone. His research has been supported by the Mellon Foundation, the Institute for Advanced Study at Princeton, the American Academy in Rome, the American Philosophical Association, and the Fulbright Foundation.
---
Dennis Looney – Reading Dante, Seeking Freedom, Fleeing Racism
African American culture has been attentive to Dante Alighieri, the man and his writing, since the mid-19th century. Dante's Divine Comedy has proved to be an effective primer on issues of justice for the broader community. This talk will present the work of African American authors from the 19th century to today who have turned to Dante and amplified his voice that speaks truth to power, that calls out for justice without compromise, that seeks a better community for us all.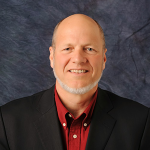 Dennis Looney served as director of the Office of Programs and director of the Association of Departments of Foreign Languages at the Modern Language Association from 2014-2021. From 1986 to 2013, he taught Italian at the University of Pittsburgh, with secondary appointments in Classics and Philosophy. He was chair of the Department of French and Italian for eleven years and assistant dean of humanities for three years at Pitt. Publications include Compromising the Classics: Romance Epic Narrative in the Italian Renaissance (Wayne State UP, 1996), which received honorable mention, MLA Marraro-Scaglione Award in Italian Literary Studies, 1996-97; and Freedom Readers: The African American Reception of Dante Alighieri and the Divine Comedy (U Notre Dame P, 2011), which received the American Association of Italian Studies Book Prize (general category) in 2011. He co-edited and co-translated Ludovico Ariosto's Latin Poetry (Harvard UP, 2018) with D. Mark Possanza.
---
Karla Mallette – Dante's Mediterranean Awakening
During Dante's lifetime, the maritime city-states of northern Italy consolidated their position at the center of Mediterranean transit and trade. Thanks to broader trends in the centuries before his birth – the Crusades, increasing trade in essential foods and luxury goods, and swift advances in naval architecture and financial supports for trade, for instance – Genoa and Venice became important hubs for trade and travel between western Europe and the greater Mediterranean world. Florence grew dramatically during the thirteenth century, but it wasn't yet the dynamic financial and artistic center that it would become after Dante's death. Dante's exile exposed him to cultural trends and technologies reaching northern Italy from the broader Mediterranean world that were still little known in Florence. The works he wrote after his exile – especially the Commedia – reveal his fascination with the technological and intellectual innovations that he learned about as he traveled through northern Italy. This talk addresses Dante's discovery of the material culture of the Mediterranean – like the shipyards in Venice, which he may or may not have visited in person; paper and watermarks; dice and dice games; and carpets from the east – and intellectual trends, like Islamic teachings and legends about the afterlife, after his exile from Florence.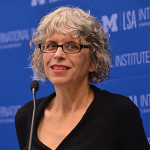 Karla Mallette is Professor of Italian in the Department of Romance Languages and Literatures and Professor of Mediterranean Studies in the Department of Middle East Studies at the University of Michigan. She is the author of The Kingdom of Sicily, 1100-1250: A Literary History (2005) and European Modernity and the Arab Mediterranean (2010); she co-edited A Sea of Languages: Rethinking the Arabic Role in Medieval Literary History (2013). Her most recent book, Lives of the Great Languages: Latin and Arabic in the Medieval Mediterranean, was published by the University of Chicago Press in 2021. She has directed the Global Islamic Studies Center and the Center for European Studies and is currently chair of the Department of Middle East Studies at the University of Michigan.