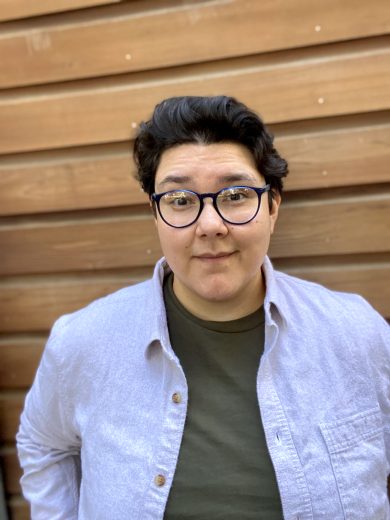 Em Padilla is a PhD student in Feminist Studies at UC Santa Cruz. Padilla's research explores Trans military policy and anti-trans and Queer legislation and how such policies influence Trans Latinx experiences throughout the United States.
At the end of Summer 2022, we learned more about Padilla's ongoing research and other scholarly endeavors. Padilla received a THI Summer Public Fellowship in 2022 to work with the Transgender Law Center (TLC), a legal organization that employs a variety of community-driven strategies to keep transgender and gender nonconforming people alive, thriving, and fighting for liberation. We discussed Padilla's summer fellowship and the influence that this advocacy work has had on their continuing academic research.
---
Hi Em! Thanks for taking some time out of your summer to catch up with us about your ongoing work and scholarly activities. To kick us off, can you please give us a general overview of your dissertation project and current research? 
My dissertation project examines the relation between military policies on Trans inclusion, the Trans Latinx soldiering experience, and Trans masculinity/femininity as they emerge and exist in and out of national institutions and socio-cultural sites. I aim to better understand the intersection between Latinx and Trans (national) identities and how this intersection plays into national sentiment, identity and, ultimately, the concept of inclusion and its history. 
My current research revolves around the above mentioned topics and ongoing analysis of existing and incoming anti-trans and Queer legislation. The purpose of analyzing such legislation and policy development/implementation is to shed light on the tension between Trans military inclusion, and the lived and violent reality that Trans and Queer people constantly face in the civilian sector. Interrogating the interplay between legislation and policy allows for a breakdown of inclusion, its history, and ultimately how it functions as a tool of the nation and state(s) to continue the U.S. legacy of warring dominance. 
This sounds so interesting! This summer, you were a Public Fellow at the Transgender Law Center (TLC) in Oakland, California. What types of projects have you worked on at TLC? What does a regular day of work there look like for you?
At TLC, I had the amazing opportunity to work with Ian Anderson, TLC's Legal Services Project Manager, on the Legal Helpdesk. I worked on two different projects during my time at TLC. One aspect of my work with the Helpdesk involved responding directly, with the help and guidance of Ian and other TLC staff members/attorneys, to client inquiries about various matters. I often responded to inquiries by providing referrals to legal resources and legal information, among other forms of informational support. The second project that I undertook involved sorting out and updating the information of attorneys in TLC's network and sourcing the information of Trans-friendly attorneys in the most underrepresented states in TLC's Legal Services Network.
For me, a regular day of work at TLC involved reading through inquiries that would come in through the Helpdesk and drafting responses with the help of TLC's legal wiki. This impressive informational site stores an archive of Trans-specific state and legal information and resources. My time was split between responding to the inquiries and updating TLC's Legal Services Network attorney list. The latter process was thankfully aided by the research skills I have developed as a graduate student!
Wow, it sounds like TLC's Helpline is helping meet a lot of community needs for legal, medical, and social services. What has been the most challenging aspect of assisting with Helpline inquiries, and the most rewarding? 
I think the most challenging aspect of assisting with Helpdesk inquiries is that through this work, it becomes clearer that there are so many Trans and non-binary people who need legal help. This is especially true in states where anti-trans legislation is being routinely introduced and often passed, or where there are little to no legal protections or support. In turn, I think the most rewarding aspect has been that TLC is doing incredible work to help mitigate some of the effects caused by terrible legal systems and offers people pathways to resources and help. In my short time with TLC, I was able to contribute to this critical work and, in many ways, learned how to better navigate the legal system for myself as well. 
There have been an alarming number of anti-LGBTQ bills introduced and/or passed throughout the country on a wide range of issues involving parenting, access to necessary medical care, and school curriculum. The Human Rights Commission expects that in 2022 lawmakers will pass more laws targeting transgender youth than in any other year prior. How has this very hostile national climate impacted your experiences working on the Helpline? 
I definitely came across inquiries that highlighted the impacts of anti-trans legislation; more often than not, the inquiries were about how to navigate state legal systems that made it nearly impossible for Trans and non-binary people to do so on their own. Inevitably, anxieties and real-world legislative implications add to the reasons why someone would reach out for legal help. This is exacerbated by a lack of private attorneys, for example, in states where most of these laws are being proposed and passed. Resources can be spread thin in moments of legal crisis that affect our communities. I caught a bit of that, and I am sure people who work more closely with the Helpdesk will continue to, unfortunately, see it more regularly.
Finally, we'd love to hear more about how you see your Summer Fellowship at TLC connecting with your doctoral studies. How do you think your work at TLC will shape your research project going forward? In your opinion, why is it important to have this type of engagement with community organizations as a PhD student?
In many ways, the work I was able to do with TLC allowed me to take something like legislative analysis (of anti-trans bills) that I have been working on in my research and consider it on a more on-the-ground level. In addition to gaining a better understanding of the everyday impacts transphobic legislations have on people across the country, I learned more about how to mitigate their effects by providing practical resources that work within the legal system to, ideally, directly address harm.
I think the work I did with TLC has helped me to see past my academic blinders a bit and allowed me to engage more directly with Trans and non-binary people who must navigate the same and, in many parts of the country, more extreme, legal systems that I am trying to untangle in my research. In my opinion, having these connections to communities outside of academia but still in proximity to the work we do as academics is beneficial and grounding. In my case, it allowed me to develop a different take on navigating a violent legal system more practically than my theoretical and research-driven approach allowed before.