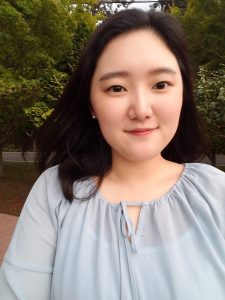 Ka-eul Yoo, a third-year PhD student in the Literature department at UC Santa Cruz, researches the biopolitics of US disease and disability controlling policies in post-1945 Asia. She is the recipient of a 2018 – 2019 UCSC-SSRC DPD fellowship, and spent last summer visiting Sorokdo (the national leprosarium in South Korea), the national Hansen's disease archive in South Korea, and the National Archives and Records Administration in Maryland.
THI spoke with Yoo about her work in disability studies and the medical humanities, as well as her central research question: How does the United States read race, immigration status, and political orientation through the lens of disability?
—
Congratulations on receiving a 2018 SSRC DPD grant! Your work is interdisciplinary, encompassing disability studies, critical race and ethnic studies, gender studies, and much more. Please tell us about your main academic and intellectual research interests.
Oh thank you for asking. I appreciate this opportunity to discuss my research further. Since my time as a graduate student at Yonsei University in South Korea, my main academic interests have been transnational Asian American studies, critical Asian studies, war/empire studies, gender and sexuality studies, and theater and performance studies.
After I started my PhD program at UCSC, I became absorbed in disability studies and the medical humanities. These two fields have introduced important new frameworks through which to read the world, particularly as someone who grew up with disabled family members. Fortunately, these creative and critical perspectives have many intriguing points of contact with my prior academic interests and shaped my questions to include more political and social perspectives. This interdisciplinary process subsequently generated my central research question of how the United States reads race, immigration status, and political orientation through the lens of disability. This is the pivotal question of my dissertation project.
That sounds fantastic. How did you use the SSRC DPD grant to begin to explore that question?
During the summer of 2018, I visited Sorokdo (the national leprosarium in South Korea) and Sorokdo National Hospital Hansen's Disease Museum in South Korea, and the National Archives and Records Administration in Maryland. During my first visit to Sorokdo in 2017, I formed positive relationships with a variety of the residents, who granted me access to their personal writings and anthologies. This time around, thanks to Father Franciscus Kim Yeon-jun of Sorokdo Catholic church and Cho Myung-rae, curator of Sorokdo National Hospital Hansen's Disease Museum, I was able to gain valuable insight into many of my long-time questions. I was also able to develop my other project of translating and publishing original literary documents written by Hansen's disease patients in Korea. The goal of this other project is to introduce the lives of Hansen's disease patients to non-academic audiences. And in Maryland, I was able to compile textual records and photographs on US policy regarding Hansen's disease in Asia. These materials, underscoring Japan and Okinawa's significance, solidified my 2019 research plans.
How has your dissertation project changed as a result of your summer research?
The SSRC DPD program has challenged me in various ways from the beginning. Because the application for the SSRC DPD program required me to provide numerous detailed research questions regarding my dissertation, I had to focus on and design my dissertation project in-depth in the very early stages of my PhD program (in my fourth quarter!). So this application process helped my research take concrete shape. Since I come from a literature background and was not trained in conducting archival work, the professional training I received from DPD about how to plan and prepare to do archival work, and manage and analyze materials, was crucial to my research.
Also, working with faculty (Grace Peña Delgado and Miriam Greenberg) and the other 14 students in this program helped me to consider the significance of conducting archival research and how to process archives effectively. This valuable experience encouraged me to focus more on archival research and this helped my project to approach the question in more unconventional ways, including putting official and unofficial narratives into conversation with each other. This interdisciplinary approach truly increased the sophistication of my research and point of view, which helped me pass my qualifying exam with honors. It also enriched a course I designed and offered last summer, "Disability in Transnational Asian American Studies."
That sounds like a lot of progress, very quickly. You're now a third-year PhD student at UC Santa Cruz. How are you finding your third year?
Since I am on the accelerated fast track for international students, I am required to complete my PhD studies one or two years earlier than my cohort (I heard this situation has changed now). This makes it particularly difficult to conduct meaningful archival research without funding. So this academic year, I am trying hard to find secure funding for archival research and finish my dissertation on time.
Regardless of the added pressures of this accelerated program, my third year has been full of joys from various challenges. As a graduate student representative of Critical Race & Ethnic Studies program this academic year, I am highly influenced by critical thought and activism from faculty and students in this program. I recently joined the disability studies mentoring program in American Studies Association Critical Disability Studies Caucus, and have been pursuing more nuanced perspectives on the intersection of race, gender, and disability. I believe these two experiences are elevating my project.
Highlights of this year include finalizing my article about Hansen's disease patients in South Korea in the Cold War period (see my article "Fourth Death of Hansenin"), my forthcoming new class "Race and Disability in American Drama" this summer, and a dissertation chapter on Chinese immigration and disability in the United States.
How have the first two years of pre-dissertation work influenced your path to this point?
Due to my fast-track program, me and my advisors (Christine Hong, Rob Wilson, Karen Tei Yamashita, Nancy Chen, and Neel Ahuja) had to undergo a very intensive QE process. Thus while I have sometimes I wished for more time, I believe that this compressed timeline along with support from the SSRC-DPD fellowship through THI, the Korean American Scholarship Foundation, and the Literature department, have all allowed me to create a solid foundation for my dissertation—along with my persisting intellectual and political commitment to furthering race, gender and disability studies.
---