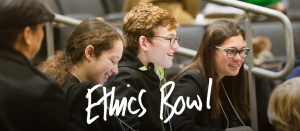 By Peggy Townsend
As an Internet meme, Grumpy Cat is famous for her perpetual frown and seemingly cranky outlook on life. But felines similar to Grumpy Cat, a breed called Munchkin cats that suffer from dwarfism, can also mean a lifetime of pain from hip and back problems.
Is it morally right, then, to buy a cat specifically bred to look like a cute grouch even though it might spend its life in pain?
That was just one of the questions facing nine high school teams brought to UC Santa Cruz on Saturday for the second annual Invitational Ethics Bowl sponsored by the campus's Center for Public Philosophy with help from a $30,000 grant from the Division of Student Success.
The debaters came from Bay Area schools where more than 75 percent of students either qualify for free or reduced-price lunches and/or are English language learners. The students, dressed in styles from hoodies and jeans to a shirt and tie, swarmed the Humanities Building to discuss thorny questions from hypothetical cases that included topics like white privilege, sports and gender, and standing up to hate speech.
"It (the event) provides a low-stakes way for these students to get their feet wet" in the rigorous art of high school Ethics Bowl competitions, according to Kyle Robertson, assistant director of the UC Santa Cruz Center for Public Philosophy and an organizer of Saturday's event.
It is also an opportunity, Robertson said, for these high schoolers to learn how to stand up and explain their beliefs—a skill that is not only important in life but is also part of civic responsibility especially in these political times.