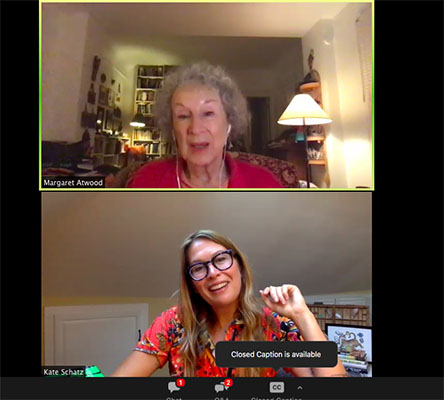 Margaret Atwood is often described as a prophet of doom, and for good reason. She is an unsparing observer and predictor of environmental catastrophes, anti-utopias, authoritarian regimes, and biotech run amok.
In other words, the author of the 1985 bestseller The Handmaid's Tale is not an obvious go-to choice for words of hope during this time of political fracturing, climate change, and a global pandemic.
But Atwood offered some words of cautious encouragement and measured hope this week during her virtual dialogue with alumna and author Kate Schatz (Stevenson '01, women's studies and creative writing).
"Believe it or not, but this is not the worst moment in the history of everything," Atwood said.
"As you will notice by looking in the mirror, the human race has survived up until now," she continued. "We're not robots yet, I don't think. I think hope is built in. It's something we have as human beings, and it's gotten us through a lot of very tight spots before. If you don't have hope, you don't work for something that's better because you don't think it's possible.
"To the voters, I would say, something better is possible. And you can vote," said Atwood, during an event that fell on National Voter Registration Day. "Cherish that. It's a right that other people have died for. Stage by stage, the right to participate in your society has been fought over for centuries. In Australia, it's mandatory to vote. Unless you're at death's door, you must vote. It's the law."
And make no mistake; Atwood, a Canadian, will be keeping a close eye on the elections this November.
"The interesting thing for me is to see how the American people as a whole are going to deal with their erstwhile devotion to democracy," she said.
This discussion was part of the Humanities Division's Peggy Downes Baskin Ethics Lecture series.
Atwood is this year's recipient of the UC Santa Cruz Foundation medal, recognizing distinguished thinkers who exemplify the university's vision and ideals.
About 2,000 households tuned in to hear the talk, which was hosted by Bro Adams (Ph.D. '82, history of consciousness), chair of the National Endowment for the Humanities from 2014 to 2017.
The long shadow of The Handmaid's Tale
Over the years, Atwood has said that for personal and political reasons, she'd hoped that The Handmaid's Tale would fade into irrelevance. She hoped its dark visions, and grim political scenarios, would drift far apart from present-day reality.
But no such luck. The book—listed as the most highly read novel on Amazon in 2017—remains a constant political touchstone.
The book is making headlines all over again, now that Amy Coney Barrett is favored to be President Trump's nominee to replace the late Justice Ruth Bader Ginsburg.
Barrett is said to be a member of the People of Praise group, which is similar to a patriarchal church organization that was one of the inspirations for The Handmaid's Tale.
Atwood emphasized that it was not, in fact, the People of Praise who inspired her book.
"It wasn't them. It was a different one but the same idea," she said.
She also cautioned listeners to not place religious groups automatically in "the bad box," because there are evangelical groups who believe racial equality is a faith issue.
"What happened with a certain kind of right-wing Christian evangelical is they misinterpreted the Bible," she said. "Love your neighbor means no matter what your perceived differences may be. And these people are not loving their neighbors."
When The Handmaid's Tale was published 36 years ago, the Iron Curtain was still in place. The Berlin Wall was still standing. At the time, "the United States was seen as a beacon of light, freedom, free speech, a society dedicated to equality … And people really didn't want to believe, especially in Europe, that such a country could ever turn and go in the opposite direction," Atwood said. "But having looked back in history, you can't ever say, 'It can't happen here.' Because anything could happen anywhere given the circumstances."
During the 1990s, after the collapse of the Soviet Union, "people were saying, 'It's the end of history.' Wrong. And, 'What do women want? Women have already gotten everything they want.' Wrong," Atwood said. "Then we hit 9/11. It turned out history wasn't over. It was just taking a different turn. Then we hit 2008, the financial meltdown, and that made people more scared, and when people turn more scared, what they want is stability. They want safety. And they are willing to trade stuff for it. So here we are!"
And the book is frequently invoked in discussions about reproductive rights and the control over the bodies and the destinies of everyone who lives in Gilead, the totalitarian patriarchal theocracy that rules over most of the territory that belonged to the former continental United States in The Handmaid's Tale. In response to a reader who recently asked about the potential rollback of abortion rights in 24 states if Roe v. Wade is overtuned, Atwood did not mince words.
"Suppose that women are forced to have children they don't want to have? What is the equivalent of that? The draft. The state controls men's bodies … but you get a salary, food, clothing, lodging, and frequently an education," she said. "If you are going to conscript women's bodies in that way, you should offer them all those things, and pay for that, if you're really serious about it. Otherwise you're just going to get orphanages, dead babies, baby snatching, all the things that dial back the calendar."
A return to Gilead
On the other hand, her dystopian books also have a strong undercurrent of resilience and resistance, especially The Testaments, her 2019 sequel to The Handmaid's Tale, which has a subplot involving a major character who is part of the repressive Republic of Gilead regime but later undermines it by leaking devastating information to the outside world.
In writing the book, Atwood found inspiration in the real-life stories of acquaintances who had fought in resistance efforts in World War II in Poland, France, and Holland.
In one of her questions to the author, Schatz referenced Atwood's uncanny ability to predict and assess frightening trends and currents, and her refusal to incorporate any details in her dystopian novels that don't have some real-life correlation.
"It has to have had a precedent," Atwood said.
Hope in the humanities
In her dialogue with Schatz, Atwood often invoked the power of the humanities to help beleaguered humans address problems ranging from climate change to the insidious creeping of authoritarianism. In Atwood's view, the various disciplines of the humanities—from the close study of history and literature to the rigors of philosophy—are a path forward in times of chaos.
For instance, Atwood noted that humans now have the wherewithal to "turn this ship around" to address the climate crisis, which she linked to wars, mass migrations, and pandemics of the past. Atwood mentioned the far-ranging work of Project Drawdown, a nonprofit organization formed to avert climate disasters of the future.
"There are a lot of people working on (climate change solutions)," Atwood noted. "The problem is will. It can be done. Will we do it? Will we do it on time? It is a people thing. And that brings us right into the humanities."
The event was part of The Deep Read, a new program by The Humanities Institute at UC Santa Cruz that invites readers to engage deeply about literature, art, and the most pressing issues of our day.
It was originally scheduled for April 5 on campus, but safety concerns forced a postponement and a format change to an online talk.
---
Original link: https://news.ucsc.edu/2020/09/atwood-feature-story-2030.html