4 MORE HUMANITIES OFFICES GO GREEN
All 3 Academic Service centers (Humanities, Cowell, and Stevenson), as well as the Writing Program office, are now Green Office certified! Learn more about the UCSC Green Office Program.
Contact the Humanities Green Team to green your office HGT@ucsc.edu

NEW PROVOST'S SUSTAINABILITY INTERN: HUMANITIES ROOFTOP GARDEN PROJECT
Congratulations to Lauren Lehrer, our new Provost's Sustainability Intern for the 2015-16 academic year.
Description of her project: Our intern will research the feasibility of constructing a rooftop garden on top of the Humanities 1 Building. The intern would need to identify and meet with key stakeholders across the university to investigate the ecological, economic and social benefits of a rooftop garden or green roof. The intern will be helping to develop the vision and budget for the project.
Click here for more information.
HUMANITIES SWITCHES TO LOCAL WATER  
The Academic Service center and most of the Humanities Departments have decided to switch over to locally-owned and operated water delivery service, Crystal Springs!
"For over fifty years, Crystal Springs Water Company has been bottling premium quality water for residents and businesses of the Bay Area. [Their] general office and modern bottling facility is conveniently located in Santa Cruz, CA – near [their] private protected source of spring water, in the foothills of the Santa Cruz Mountains."
—Crystal Springs website.
ZERO WASTE BY 2020!
On each floor of the Humanities 1 building, we have zero waste stations in front of the elevators.
If you have something that can be composted, please do not throw it in the trash.
Please also recycle all recyclable containers.
Thank you for your cooperation!
Learn more about Zero Waste at UCSC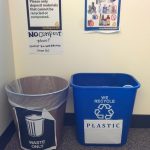 ATTENTION FACULTY
The Academic Services team is dedicated to reduce waste so we now have only one waste bin per academic service center for faculty use.
They will be next to the container recycling bins away from the paper recycling cans.
Please do not throw away paper in the waste bins or container recycling bins.
For more information on Green Office resources, click here.
JOIN THE GREEN TEAM! 
We'd like the Humanities Green Team to include representatives from all departments in Humanities, including staff, faculty, and students. Click here to learn more and contact us if you're interested in joining HGT@ucsc.edu