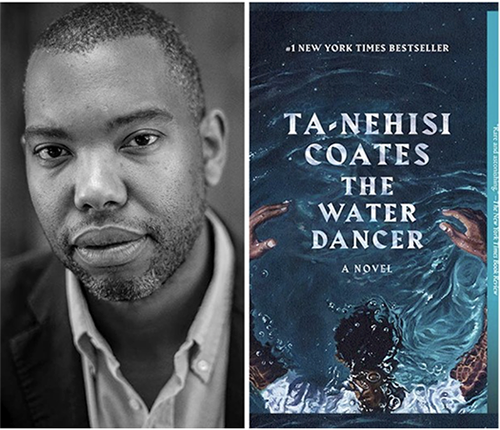 The Humanities Institute at UC Santa Cruz, is partnering with Bookshop Santa Cruz and Marcus Bookstores in Oakland to offer a special online event with award-winning author and journalist Ta-Nehisi Coates on Friday, November 20th, at 6 p.m.
Coates will be in conversation with Adam Serwer, staff writer at The Atlantic magazine, to discuss his acclaimed novel The Water Dancer—as well as the state of the country after the election, truth telling, and the idea that stories and mythology can persuade and change attitudes when facts alone cannot.
One of the most acclaimed writers in the United States, Coates gained a wide readership during his time as national correspondent at The Atlantic, where he wrote about cultural, social, and political issues, particularly regarding African Americans and white supremacy.
In 2015, Coates won the National Book Award for Between the World and Me, a letter to his then 14-year-old son in which he warned about the perils of being African American. It was highly praised by Toni Morrison, who observed, "I've been wondering who might fill the intellectual void that plagued me after James Baldwin died…clearly it is Ta-Nehisi Coates."
He is also the author of the memoir The Beautiful Struggle, and We Were Eight Years in Power, a collection of essays about the intense, divided and emotional response to Barack Obama becoming the country's first black president.
Set on a slave plantation in Virginia, Coates's latest work is his debut novel, The Water Dancer, about a fugitive slave who becomes an agent in the Underground, an organization devoted to the destruction of slavery in the United States during the mid-1800s. A blend of both historical and speculative fiction, it focuses on life after slavery, with an alternate historical timeline, and the protagonist's ability to manipulate time and space.
As Rolling Stone magazine noted in a recent review:
"Ta-Nehisi Coates is the most important essayist in a generation and a writer who changed the national political conversation about race with his 2015 memoir, Between the World and Me. So naturally his debut novel comes with slightly unrealistic expectations—and then proceeds to exceed them. The Water Dancer is a work of both staggering imagination and rich historical significance. . . . What's most powerful is the way Coates enlists his notions of the fantastic, as well as his fluid prose, to probe a wound that never seems to heal. . . .Timeless and instantly canon-worthy."
This week, Oprah Winfrey and Brad Pitt announced that they are teaming up to adapt The Water Dancer as a feature film for MGM. Winfrey's Harpo Films and Pitt's Plan B are producing along with Kamilah Forbes, who previously developed and directed the staged production of Coates' book, Between the World and Me, at the Apollo Theater and Kennedy Center.
Coates adapted his own novel, which was Winfrey's first selection of her revived Oprah's Book Club in partnership with Apple, and was listed as one of the best books of the year for 2019 by Time, NPR, The Washington Post, The Chicago Tribune, Vanity Fair and Esquire.
Earlier in July, HBO also announced that it was making Coates' award-winning book Between the World and Me into a TV special, with HBO's president of programming noting that "Ta-Nehisi's book is a modern literary classic that provides an essential message for our times."
This event is being presented as part of The Humanities Institute's 2020-2021 theme of Memory and its significance in our lives—a yearlong discussion that includes events on transitional justice, indigenous resistance, and a Questions That Matter course on "Memory and the Americas."
The idea is to explore what memory can tell us about our past, present, and future; the relationship between individual memory, collective memory, and history; and how memory is passed down through generations in order to build a better future.
---
All tickets include one paperback copy of The Water Dancer, plus entry to the event. (The THI is also offering free book and event access to the first 500 current UCSC students who register). Register here to attend. The online event begins on Friday, November 20, at 6 p.m.(Pacific).
---
Original Link: https://news.ucsc.edu/2020/11/ta-nehisi-rapp.html