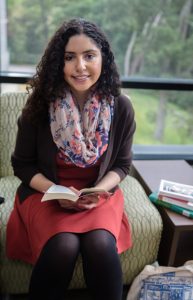 By Jennifer Pittman
Students involved in individual research projects across multiple disciplines will be celebrating their findings June 9 at the inaugural Koret Scholars Undergraduate Research Slam.
The year-end event will feature poster presentations about topics as diverse as a protein link to heart disease, female authorship in science fiction and horror genres, and the qualitative impact that research opportunities can have on the undergrad experience.
The greater community is invited to attend the free event, which takes place at the McHenry Library and caps off Student Achievement Week (June 5–9). Students will be on hand during a reception and to talk about their projects.
"Students will be showcasing research from a wide-variety of disciplines on campus," said Sara Sanchez, coordinator of Undergraduate Honors and Research Opportunities in the Office of Campus Advising Coordination. "The goal of the Koret Scholars program is to offer more research opportunities to undergraduate students."