Professor Emerita Judith Aissen was recently awarded the prestigious Kenneth L. Hale Award. Aissen was presented with the award at the 2019 Annual Meeting of the Linguistic Society of America (LSA), held last week in New York City.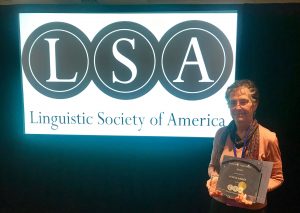 This award honors the linguist Ken Hale (1934-2001), whose work brought indigenous languages to bear on issues in theoretical syntax, thereby transforming a field which had previously been dominated by the world's major languages. Hale was also a forceful advocate for the need to train native speakers of indigenous languages as linguists so that they could participate fully in the documentation and analysis of their own languages.  
The citation from the LSA reads:
"In her work on Mayan languages, which spans more than forty years, Judith Aissen has made outstanding contributions in language documentation, linguistic theory, and the mentoring of indigenous linguists.  Aissen's published works are models of theoretically informed linguistic description; viewed another way, they are models of empirically-based theoretical work. Aissen has been a stalwart, dedicated mentor of indigenous linguists in Mexico and Guatemala, teaching seminars and workshops. In short, Aissen has earned this award for her energetic documentation of Tzotzil and other Mayan languages, her success at bringing these languages to bear on linguistic theory, and her commitment to the nurturing of indigenous linguists."
Congratulations to Dr. Aissen.