Born with cerebral palsy, Zayid is a talented comedian and actress, and an advocate for those with disabilities.
---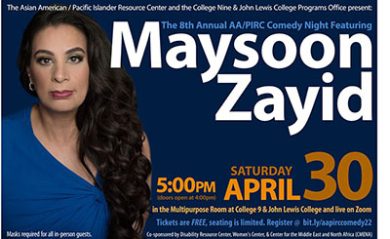 The comedian Maysoon Zayid was born with cerebral palsy. She also has gifts that most people do not possess, including deft wordplay, enviable timing, and a gift for storytelling.
In her 2014 TED Talk, with nearly 6.5 million hits so far, she shared that she has "99 problems and palsy is just one." Living with a disability, she said, is among many other obstacles.
"If there was an oppression Olympics, I would win the gold medal. I'm Palestinian, Muslim, I'm female, I'm disabled, and I live in New Jersey," she said.
The line hits hard; watch the video and see the TED audience lose it en masse. Now it's UCSC's turn to lose it. Zayid will perform on campus in the eighth annual Asian American/Pacific Islander (AAPI) Comedy Night at 5 p.m. Saturday, April 30, helping to kick off AAPI Heritage Month.
Comedy Night takes place at the Multipurpose Room at College Nine and John R. Lewis College. Tickets are free but seating is limited so register in advance through Eventbrite. Doors open at 4 p.m.
UCSC's AAPI Comedy Night has racked up an impressive lineup of funny people entertaining UCSC students. In 2020, the comedy night hosted the beloved Saturday Night Live cast member Bowen Yang, who co-stars with Margaret Cho in the upcoming comedy Fire Island.
Zayid is an actress, comedian, writer, and disability advocate. She is a graduate of and a Guest Comedian in Residence at Arizona State University. She is a Princeton University Arts Fellow for 2021–23 and will begin two years of teaching and community collaboration in September.
She is also the co-founder/co-executive producer of the New York Arab American Comedy Festival and The Muslim Funny Fest. She was a full-time on-air contributor to Countdown with Keith Olbermann and a columnist for the Daily Beast. She has most recently appeared on 60 Minutes, ABC News, and Oprah Winfrey Networks In Deep Shift. She had the most viewed TED Talk of 2014 and was named 1 of 100 Women of 2015 by BBC.
Caz Salamanca, director of the Asian American/Pacific Islander Resource Center at UCSC, spoke about the power and reach of humor and the importance of Comedy Night.
"We at AA/PIRC love hosting the annual Comedy Night events because it's an opportunity to introduce our campus community to Asian American, Pacific Islander, and Southwest Asian/North African (AA/PI/SWANA) performers and creators in the entertainment industry," Salamanca said.
"Historically, comedians and performers from our communities are often overlooked or reduced to one-dimensional roles in entertainment, and it's events like this that allow us to support folks within our communities," Salamanca said. "As a Palestinian, Muslim, and disabled woman, Maysoon Zayid brings a very unique perspective through the intersections of her identities."
Often perspectives on serious or contentious subjects are made to be more easily digestible when presented with comedic insight, Salamanca said.
"Comedy, when done right, is carefully crafted to be relatable, thought provoking, and fun all at the same time," Salamanca said. "It's our goal to have our attendees feel a sense of community and visibility through laughing with each other."
In an interview with Push magazine, a publication that was founded to elevate people with disabilities, Zayid veered back and forth from being irrepressibly funny to taking on serious matters. She joked about being a shoo-in to win an Oscar, especially since so many actors without disabilities score points for pretending to have them.
"Disabilities win awards or at least get you nominated; Rain Man, Forrest Gump, My Left Foot, The Piano, Born on the Fourth of July, What's Eating Gilbert Grape. But in all those examples, you have able-bodied [people pretending to have disabilities]. The last time an actor with a visible disability won an Oscar was Marlee Matlin in Children of a Lesser God [in 1986, for Best Actress]. It's time for another PWD [person with disabilities] to grace the Oscar stage, so why not me?"
Maysoon has performed in top New York clubs and has toured extensively at home and abroad. She was a headliner on the Arabs Gone Wild Comedy Tour and The Muslims Are Coming Tour. Zayid appeared alongside Adam Sandler in You Don't Mess with the Zohan and has written for VICE.
She also played the character Zahra Amir in the soap opera General Hospital from 2019–2020, and is the author of Audible's Find Another Dream.
Real-time captioning will be available at this event. If you have a disability-related accommodation for the event, please contact drc@ucsc.edu. Requests should be made as soon as possible to allow time for coordination.
The event is co-sponsored by the Disability Resource Center, Womxn's Center, and Center for the Middle East and North Africa.
---
Original Post: https://news.ucsc.edu/2022/04/maysoon-zayid-comedy-night-ucsc.html.