'A Conversation about Oliver Sacks' to feature alumnus Lawrence Weschler and Radiolab's Robert Krulwich
On Monday October 21, 7:00pm, The Humanities Institute co-presents The Original Thinkers Series at the UC Santa Cruz Music Recital Hall. Registration is requested.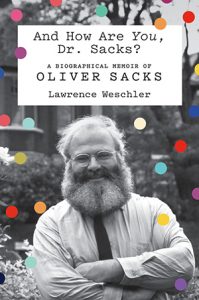 Celebrated writer and UC Santa Cruz alumnus Lawrence Weschler will join Radiolab's Robert Krulwich for a public conversation about the late neurologist and acclaimed author Oliver Sacks on October 21, at 7 p.m. in the Music Center Recital Hall.
The two journalists will reflect on the life and work of their longtime mutual friend, who is the subject of Weschler's new book, a biographical memoir titled And How Are You, Dr Sacks? that was just published in August.
A best-selling author, and a professor of neurology at the NYU School of Medicine, Sacks has been described by the The New York Times as "the poet laureate of medicine." His 1973 book, Awakenings, inspired the 1990 Academy Award-nominated film starring Robert De Niro and Robin Williams.
Sacks was a frequent contributor to the New Yorker and the New York Review of Books, and is well known for his collections of neurological case histories that include The Man Who Mistook his Wife for a Hat, Musicophilia: Tales of Music and the Brain, and An Anthropologist on Mars. His patients' disorders were the catalyst for unconventional and insightful observations on the human condition.
Weschler first began spending time with Sacks in the early 1980s when he set out to profile the neurologist for The New Yorker. Over the next four years, they worked closely together until, for personal reasons, Sacks asked Weschler to abandon the profile. The two remained friends for the next three decades, and as Sacks was dying, he asked Weschler to take up the project again. Weschler's latest book captures the essence of their close friendship.
A graduate of Cowell College  (1974, Philosophy and Western Civilization), Weschler was a staff writer at the New Yorker for more than 20 years and is director emeritus of the New York Institute for the Humanities at NYU. He is the author of more than 20 books, including Vermeer in Bosnia and Mr. Wilson's Cabinet of Wonder.
Robert Krulwich is a science correspondent for NPR and co-host of the Peabody Award-winning program, Radiolab. He won an Emmy Award for his investigative work on privacy and the Internet, as well as for his ABC television special on the cultural history of Barbie. Over the past three decades, Krulwich has had the opportunity to speak with Sacks about everything from music to neurology to hallucinations.
Weschler initiated the UCSC visit to coincide with his West Coast book tour, contacting Cowell College provost Alan Christy to set up the event. He has kept in touch with his former teachers at the college over the years, including philosophy professor Robert Goff–who has noted that it was due to Weschler's influence in 1985 that Oliver Sacks accepted a position as a Regents' Professor at Cowell. Sacks' first book, The Man Who Mistook His Wife for a Hat, had just been published, and he taught a seminar about it at UCSC.
In the 1990s, Weschler also returned to the campus as a Regent's lecturer, offering an abbreviated course through Cowell College on how to read a newspaper.
Recent visits by Weschler to the campus include a Cowell event in 2017 titled "Waves Passing in the Night: Astrophysics, Harmony, and Boundaries," where he was on a panel with Academy Award-winning sound and film editor Walter Murch and campus astronomer Enrico Ramirez-Ruiz; and "Music of The Waves" in 2014, where he spoke at the Cowell library with his New Yorker colleague and fellow UCSC alumnus, William Finnegan.
"It's great to welcome back a devoted alum who keeps us ever in mind and whose work he consistently represents as, at least in part, being made possible by the education he received here," said Christy.
"The students in the Cowell Core course are reading one of his essays this quarter from his book, Vermeer in Bosnia," he added.
___________________________________________________________________________________
This article was originally published at UCSC News.