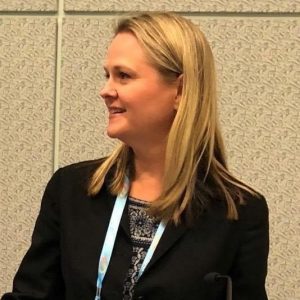 Dr. Jasmine Alinder is the incoming Dean of the Humanities at UC Santa Cruz, and a historian of photography, race, and civil rights. Prior to arriving on campus, she served as the Associate Dean for the Humanities at the University of Wisconsin, Milwaukee.
THI spoke with Dr. Alinder in July to learn more about her plans for the division and her research. We covered topics ranging from her Bay Area roots to the importance of shared authority in university structures. Read more about our new dean's background, research, and vision for the Humanities below. Welcome Dr. Alinder!
---
Can you tell us a bit about your professional experience, and in particular anything that might provide insight into why you were drawn to the dean position at UC Santa Cruz?
I was drawn to the position because UC Santa Cruz has an extraordinary history of excellence in the humanities and is part of a world-class public university system. Santa Cruz also happens to be across the bay from where I grew up. Before coming to UC Santa Cruz, I served at the University of Wisconsin-Milwaukee as Associate Dean of the Humanities, Director of Urban Studies, and Coordinator of Public History. I see the Dean of the Humanities position at Santa Cruz as an opportunity to draw on my commitment to shared governance, my passion for public education, and my belief in the power of higher education and the humanities to transform lives and create a better, more just world. My administrative work is grounded in my belief that the humanities can be transformative. The humanities have transformed me. And I've seen how the humanities can transform others. I've seen it in my life as a scholar, as a teacher, and in the collaborations and community partnerships that have become a part of who I am.
My vision for the humanities at UC Santa Cruz is to build on our current strengths, raise our visibility, and create a supportive and inclusive campus culture, with a deep sense of care for one another.
Briefly, how would you describe your overall vision for the Humanities here at UC Santa Cruz?
My vision for the humanities at UC Santa Cruz is to build on our current strengths, raise our visibility, and create a supportive and inclusive campus culture, with a deep sense of care for one another. Longer term, I would like to see sustainable growth in majors, enrollments, and graduate programs. Our initiatives should demonstrate relevance so that our students understand that their work, our work, makes a difference. My ultimate goal is for UC Santa Cruz to become a nationwide leader in transformative humanities education. The key will be building strong relationships across campus, local communities, the UC system, other humanities organizations, and beyond.
Can you tell us a bit about your own research and scholarly interests? How do they inform your vision for the division?
I am an interdisciplinary, community-engaged scholar and teacher of public history, the history of photography, and the history of Japanese Americans during World War II. The overarching themes that unite my work are human rights and civil liberties, with a focus on the United States from the 1940s to the present.  I am committed to the ideal of what historian Michael Frisch describes as "shared authority." My approach to community/university partnerships, as well as university administration, utilizes the concept of a shared authority to work and build knowledge cooperatively.
What excites you about serving in the dean's role for the Humanities Division?
I am really excited to get to know the people of the Humanities Division. This is a time for us to recommit ourselves to the serious work of envisioning the future. On campus, we have much to do to support our undergraduate and graduate students, increase students' sense of belonging, and decrease student debt. As a nation, we are also facing a crucial moment in a time of pandemic and struggle against racism and inequality. The humanities must play a crucial role in these struggles as we seek to understand our current circumstances and make our way toward a more equitable future.
How do you hope to engage with THI after you settle into the position? Is there any particular programming that you're especially interested in or excited about?
One of the big draws of UC Santa Cruz for me has been the outstanding work of THI. THI plays significant roles as a convener and incubator for interdisciplinary scholarship and learning. I had the pleasure of attending the Okinawa Memories Initiative virtual event earlier in July, and really admire the impact of the project and the breadth of participation. I believe deeply in the power that public-facing, community-engaged humanities projects can have, and I look forward to working with THI and the members of the Humanities Division to support more of this kind of work alongside more traditional humanities scholars.
---
To read UC Santa Cruz's official announcement regarding Dean Alinder's appointment, click here.