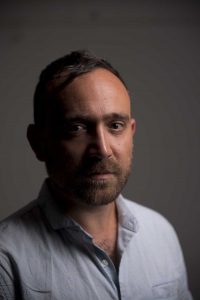 Gabriel Mindel is a PhD Candidate in the History of Consciousness Department at UC Santa Cruz. In 2019, he was awarded a Summer Public Fellowship at Indexical to work with their artist-in-residence and support a performance series called "Digital Alchemy." THI sat down with Mindel to hear more about his experiences at Indexical and advice for applicants to the 2020 Summer Public Fellowship program.  
---
Can you tell us a bit about Indexical and how you began working with the organization?
Indexical is a local arts organization that is dedicated to "experimentation in music." They bring radical and unfamiliar work to the public through performance, publication, documentation, educational initiatives, and discussions. Though there are some very well-established arts organizations in Santa Cruz and the greater Bay Area who are also presenting new and experimental music, Indexical is able to work at a smaller scale with a real focus on supporting historically, culturally, and institutionally underrepresented artists. They're a very community-minded organization and a big part of their mission is to build that community – in Santa Cruz and beyond – through long-term collaborative projects.
I first became acquainted with Indexical as an audience member. Moving from a bigger city where cutting edge performing arts are an everyday event, I was immediately struck by Indexical's programming, and their beautifully designed posters (courtesy of UCSC Music PhD K. C. M. Walker). They present work that would otherwise almost never come to Santa Cruz, bypassing us for L.A., Oakland and San Francisco. In addition to supporting touring artists, they are also very committed to providing a platform for Santa Cruz musicians and they eventually invited me to perform as part of a day-long event at the MAH. In the years that followed I became a devoted fan and attendee.
What was your role as a Public Fellow this summer? What projects were you involved in?
As a Public Fellow, I worked with Indexical on two major projects: First, I supported their artist-in-residence, Carmina Escobar, who is a composer and vocalist from Mexico City. Carmina conceptualized an amazing public performance event called "Feast of Beams, Keepers of Light" which drew upon different Santa Cruz communities to create processions and performances that congregated at Lighthouse Point at sunset. I helped lead a bicycle procession and created a score for the bicyclists, but there were also dancers, singers, volunteers from Brown Girl Surf and even the Santa Cruz legend the Great Morgani. It was an incredible event – hundreds of people participated and came out to experience the evening.
The other major project I worked on was a fundraising house party to support Indexical's performances, workshops, and publications. The vast majority of Indexical's budget is built on individual donations, supplemented with some support from arts foundations. The fundraising house party was based on their desire to develop community-based financial support while building personal relationships among Indexical supporters. The house party method is something that political organizations and filmmakers have used for decades to grow grassroots support for candidates, organizations, and artistic projects. This was the first time Indexical had tried this approach and I was able to work alongside Executive Director Andrew C. Smith to conceptualize, organize, and realize the event from start to finish.
Beyond these two examples, I found that the organization was really open and receptive to my contributions. Throughout the summer, I felt like a full-fledged member of this vibrant and dynamic organization.
I would love to hear more about your background as a musician and artist. What were you doing before you moved to Santa Cruz and what inspired you to pursue a PhD?
I actually went to UC Santa Cruz as an undergraduate and dropped out in the late nineties. From there I embarked on a multi-decade adventure as a musician, visual artists, writer and curator. About ten years ago, I felt a calling to teach and develop myself as a scholar and decided to pursue an MFA at Simon Fraser University in Vancouver, B.C. While living in Vancouver – a place that is at least as expensive as Santa Cruz – I was making ends meet by juggling multiple hats and doing a wide array of work in the Arts, ranging from composing for dance to teaching interdisciplinary art to sitting on the board of public arts organizations. I felt inspired to continue evolving as a scholar and wanted to develop my thinking around how music and performance challenge the political and social institutions that define our national identity.
What are some of the connections between your scholarship in the History of Consciousness program and your work at Indexical? In what ways did your expertise as a Humanities scholar support Indexical's programs?
My work in the History of Consciousness program has allowed me to explore the interstitial spaces between disciplines – art, politics, music, philosophy – to find the surprising ways in which those intersections of ideas and practices affect and change each other. I think that Indexical has a very similar mission. Their recent fall program, Digital Alchemy, is a great example of that. Here they brought artists and scholars into conversation about technology, race, gender, surveillance, AI, power and politics. As an artist and a scholar, I think that these different tools for producing knowledge and disseminating knowledge absolutely must be in conversation with each other.
These moments were great examples of public Humanities work
I was well positioned to bring my experience as a Humanities scholar to support Indexical's efforts to develop different platforms for making the work that they're doing public. For example, Indexical has been inviting scholars to facilitate a pre-concert discussion with artists, including History of Consciousness professors Eric Porter (with Amirtha Kidambi) and Carla Freccero (with The Powers). Over the summer we had extensive conversations about how to pair Humanities scholars with artists in ways that gave both parties an opportunity to talk publicly in formats and forums that aren't normally provided. I think these moments were great examples of public Humanities work that really supported the artists involved, and audiences seemed to love them as well.
What will you bring from your experiences at Indexical to your PhD studies in the History of Consciousness department?

Working with Indexical was a great reminder that scholars need to find a multiplicity of ways to make their work public. Academic publishing is still important but nothing can compare to experiencing, through live performance, an example of theory put into praxis. I'm hoping that as I develop my dissertation, I'll find ways to present this work in embodied, multi-sensory events, whether it be through public speaking, concerts, or other kinds of performances and exhibitions. I'm also more inspired than ever to look towards musicians as people who are working through many of the same questions that I'm exploring as a scholar. In their artworks these musicians are also trying to ask questions, challenge what we know, and propose other possible worlds.
What do you think are some key elements for creating a successful partnership through the Public Fellows program? What advice would you offer other graduate students considering this type of opportunity?

I would definitely encourage graduate students to look for organizations that will benefit as much from our work as Humanities fellows as we might benefit from their mentorship and professional development.
I think having familiarity and affinity with an organization is great (though not necessary). Having already been on the public side of Indexical I had a lot of insight that I was able to bring to my work and it meant that I was a resource to the organization. I also learned skills that I will carry forward in my work, whether at a university or any other kind of public-facing institution. This meant reaching outside of my comfort zone to try things I wouldn't have or couldn't have without the institutional support of the organization, and especially the mentorship of the executive director. I would absolutely encourage graduate students to take this opportunity seriously. Indexical hadn't worked with the Humanities Institute before I reached out to them with a proposal and I think it appealed to them not only because of our mutual interests, but because this was a great opportunity for the organization as well. I would definitely encourage graduate students to look for organizations that will benefit as much from our work as Humanities Fellows as we might benefit from their mentorship and professional development.