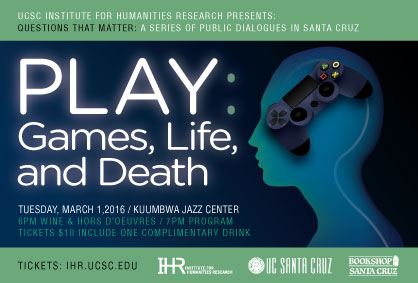 Over the past decade, the revolution in gaming has created new communities, identities, and careers. Games can now help detect early dementia, reduce pain felt by burn victims, and may help speed healing from concussions.
They also have many of us obsessed with playing them, providing countless hours of entertainment for both kids and adults alike.
What is gained and what is lost as a result of the current "gamification" of life?
Is play mostly about having fun or does it also have a higher purpose?
How are games shaping the future and what it means to be human?
Those questions and many more will be discussed at the second installment of the "Questions That Matter" series, presented by the Institute for Humanities Research at UC Santa Cruz.
It all takes place on Tuesday, March 1, in downtown Santa Cruz at the Kuumbwa Jazz Center, beginning at 7 p.m.
The series is designed to bring together two or more UC Santa Cruz scholars in conversation with community residents and students to explore questions that matter to all of us.
The topic this time out is "PLAY: Games, Life, and Death."The featured guests will be UC Santa Cruz professors Kimberly Lau (Literature) and Noah Wardrip-Fruin(Computational Media). History professor Nathaniel Deutsch, director of the Institute for Humanities Research, will serve as the moderator.
"The turnout for the last event was really extraordinary," Deutsch noted. "I think it testified to the desire of the broader community to hear different perspectives on existential issues that affect all of us, and also the degree they want the university to serve the community as a source of experts and conversation on these types of questions."
"One of the most successful aspects of the event last time was the Q&A," he added. "A lot of the most provocative issues were raised by members of the audience. For them, it was an opportunity to have a conversation with the faculty without having to come to the university–the university came to them."
The Questions That Matter series is designed as both a lecture and a conversation, with plenty of time built in for audience questions and answers.