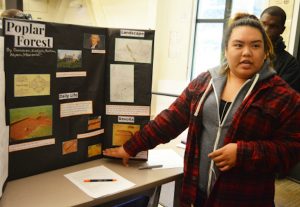 By Melissa De Witte
Using a blend of data, history, and archaeology, UC Santa Cruz undergraduates have explored what life as a slave was like on plantations in the American South. They shared their research findings in an interactive poster session this week.
The presentations are part of the fall quarter class "Slavery in the Atlantic World,"  co-taught by archeologist and anthropology professor J. Cameron Monroe and history professor Greg O'Malley. This is the second time the professors have taught the course.
Historically, slaves were depicted as only labor and numbers, with very little, if any, information about their personal life.  "The history of slavery was written by people in power," Monroe says.
But now with data recently made available by the Digital Archaeological Archive of Comparative Slavery (DAACS) and the Trans-Atlantic Slave Trade Database, students in Monroe and O'Malley's interdisciplinary class can piece together archaeological records with historical analysis to explore the human side of captive life.