Giving Day 2019 is upon us!
Only UC Santa Cruz's biggest online fundraiser of the year! Over 150 student, faculty and campus projects need funding and we've got 24 hours to do it, crowd funding style. From sports teams to science competitions, to research projects, we encourage you to choose what you are most passionate about and give what you can.
The Humanities Institute is proud to support all projects on campus, especially those related to the Humanities! Check out all Humanities-related projects below. And on February 27, give what you can from 12:00am until midnight.
✅Want to help share the languages of Oaxaca, Mexico, with the Santa Cruz public? Support Nido de Lenguas' annual language camp event.
✅Buy Greek and Latin texts for students with financial need, update the Classics library in Cowell college, and provide awards for student achievement by donating to Classics Alive!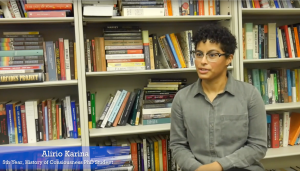 ✅History of Consciousness alum? Help ensure the program's future by donating to the History of Consciousness Graduate Student Research Fund.
✅Help young scholars present their research and build networks by donating to the Center for World History's annual graduate student conference.
✅Enjoy the Center for Cultural Studies' talks, and want to see their programming expanded? Support the Center for Cultural Studies' Graduate Student Workshops in Race, Migration, and Sexuality.
✅ Raise the caliber of public dialogue, reason, and thought by donating to the Center for Public Philosophy.
✅Support students looking to get valuable out-of-classroom experience while advocating for Okinawan history by donating to The Okinawa Memories Initiative.
Donate on February 27 and help ensure a vibrant intellectual community at UC Santa Cruz, and beyond!