By Jacqueline Wallace
When: Opening February 26, through May 22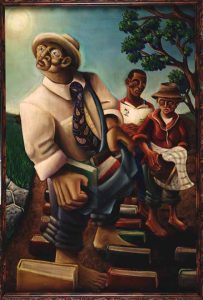 Where: Museum of Art and History, 705 Front Street, Santa Cruz
Details: santacruzmah.org
Bernard Kinsey is on a mission. Along with his wife Shirley and their son Khalil, the Southern California philanthropist is diligently working to bring stories of African American accomplishment and achievement to the table of our collective historical narrative.
"There is the story that made America and the stories that America made up," he said. "Right now, African American history is taught as a longer chapter in American development. What we say is that it's everything about America. America wouldn't exist as we know it without African Americans."
To tell that history, Kinsey is not standing on soapboxes, publishing op-eds, or making political speeches. Instead, he lets the story tell itself, through the "Kinsey Collection," a collection of more than 400 artifacts, objects, art pieces, and documents that he and his family have amassed over the past 25 years, which comes to the Museum of Art & History Friday.
"We had a story to tell here, and that story was being told through documents, books, manuscripts, and two- and three-dimensional art," said Kinsey. "What makes the collection unique is that it tackles the entire African American experience from 1595 to the present both from a historical standpoint and an artistic standpoint."
Over the past nine years, the collection has traveled to 20 U.S. cities. It will be on exhibit at the MAH through May 22.
Kinsey tells of documents that prove that African Americans existed in, "what we now call the U.S." as early as 1595. In the tone of a historian, Kinsey explains, "this is significant because Jamestown was founded in 1607, and the common language of myth that historians have promulgated is that black people didn't come to this country until 1619 when 20 Africans were traded in Jamestown. Now we have a document from 1595 and then a marriage certificate from 1598 which destroys that story."
Other artifacts strike a more emotional chord….