The Humanities Institute is thrilled to award eight fellowships in support of undergraduate student research for 2018-2019. The fellowships go to: Summer Al-Saleh, Morgan Corona, Natalie Gonzales, Metztli Hamelius, Paula Ledesma, Avery Weinman, Stephanie Perez, and Garrett Starke.
Special recognition goes to Stephanie Perez (Legal Studies) and Garrett Starke (History) who have been recognized as this year's Bertha N. Melkonian Prize recipients.
The awarded research spans a breadth of fields and interests. The proposed projects are in disciplines that range from Legal Studies and History—covering bioprospecting in the Ecuadorian Amazon, and studies of the Israeli Right—to History, Music, and Literature—with investigations into ghost dance movements, female Pachuquismo in 1940s Los Angeles, and embodying personal narrative in the codex. Feminist Studies and Linguistics students are also recognized, for work on Gaza and the settler-colonial state, decolonial and technoscientific imaginaries, and unstressed (clitic) words in Spanish.
Such a diverse range of projects nonetheless shares overlapping themes: most salient are colonialism and decoloniality, the body and identity, and state power.
Undergraduate research applications are assessed on intellectual substance, promise, applicant preparation, and project feasibility. Awardees receive financial support for their research, as well as the opportunity to present their work at the Humanities Spring Awards and the Humanities Undergraduate Research Fellowship poster presentation in Spring 2019.
THI is proud to recognize the independent research of undergraduates whose projects express their personal academic interests. The Institute looks forward to joining these students in the spring to celebrate the Humanities.
See all THI Fellows on our website. Congratulations to our newest cohort of Fellows!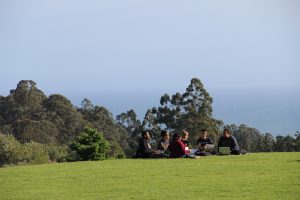 2018-2019 Undergraduate Research Fellows
Summer Al-Saleh, Feminist Studies
"Gaza's Great March of Return: Mapping Convergences Between the Politics of Human Rights Organizations & the Logic of the Settler-Colonial State"
Morgan Corona, Literature (Creative Writing Concentration)
"Don't Pick Corn Before It's Ripe and Other Lessons: Embodying Personal Narrative in the Codex"
Natalie Gonzales, Feminist Studies
"Archiving the Future through the Digital: Redesigning the Human through Indigenous and Decolonial Technoscientific Imaginaries"
Metztli Hamelius, Music
"Queering Female Pachuquismo: Fashion, Identity, and Relationships in 1940s Los Angeles"
Paula Ledesma, Linguistics
"Clitic Placement and Clitic Climbing in Spanish"
Avery Weinman, History
"From Ma'abarot to Mahapakh: How Israel's Mizrahim Became the Foundation of the Israeli Right"
Stephanie Perez, Legal Studies
"Law and the Early History of Bioprospecting in the Ecuadorian Amazon"
Garrett Starke, History
"Renewal and Resistance: A Study of the Ghost Dance Movements and Their Legacy"