THI is delighted to offer four undergraduate courses in Spring 2022. Three of these courses will explore questions related to our annual theme of Imagination as part of the Questions That Matter series, and the other course will delve into the work of Ghanaian American novelist Yaa Gyasi and other African American and African Diasporic writers as part of THI's annual Deep Read. Questions That Matter and The Deep Read are public humanities programs that explore pressing issues in the world through public events, community conversations, and scholarly talks. THI's courses are designed to extend these community-wide discussions into the undergraduate classroom. Both courses will be taught in various residential colleges at UC Santa Cruz, thereby encouraging students from across the campus to get excited by and engaged in the Humanities.       
Questions That Matter: Imagination
Questions That Matter is a long-running public humanities series that connects scholars on campus with the community to discuss questions and issues that matter to all of us. Over the years, for example, Questions That Matter has tackled topics like Data and Democracy and Freedom and Race. Connecting these public programs with undergraduate courses has deepened and enriched the important conversations happening around THI's annual themes.
This year's Questions That Matter courses explore Imagination as an inherently cross-cultural topic and teaches students to present, analyze, and critically discuss philosophical and sociological arguments about imagination. Course readings include philosophical treatments of imagination, Indigenous imaginative cultural formations, and Black radical imaginations for socio-spatial liberation. Three Graduate Student Instructors, Philip Groth (Philosophy), Theresa Hice-Fromille (Sociology), and Alexandra Macheski (History of Art and Visual Culture), will teach the course in Porter, Cowell, and Stevenson Colleges, respectively. 
These courses are part of THI's Expanding Humanities Impact and Publics project, funded by the Andrew W. Mellon Foundation. Graduate student instructors are selected through a competitive process to collaboratively design a new syllabus and teach Questions That Matter undergraduate courses on the Institute's annual theme. THI's program provides a valuable opportunity for graduate students to expand their pedagogical training with support from faculty mentors, peer mentors, and the Center for Innovations in Teaching and Learning. The courses they teach inspire undergraduate students to find deep meaning, relevance, and value in the humanities as they engage in thought-provoking discussions about critical issues in our current historical moment.  
The Deep Read: Yaa Gyasi and Contemporary African Diasporic Literature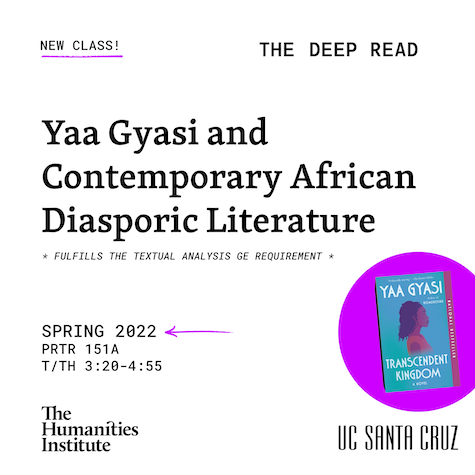 The Deep Read is an annual program that invites students, staff, faculty, alumni, and members of the public to explore a compelling book by a living author. Consisting of guided discussions, salons led by campus faculty, a community message board, and a credit-bearing course for undergraduates, it fosters critical reflection and lively conversation about questions of broad human concern in our contemporary moment. The Deep Read culminates each year in a public event featuring the author of the chosen book. This year's Deep Read features Yaa Gyasi's novel Transcendent Kingdom. 
"Yaa Gyasi and Contemporary African Diasporic Literature," the companion course for the Deep Read program, engages with Yaa Gyasi as a Ghanaian American writer who grapples with literary and historical themes, such as trauma, the legacies of Atlantic slavery, scientific inquiry vs. religious faith, and the experiences of first-generation college students. Enrolled students have the opportunity to meet Yaa Gyasi during her visit to campus and to share insights with the broader Deep Read community throughout the program, thereby opening up the undergraduate classroom to the public and allowing for a mutually enriching literary discussion. Laura Martin, Program Coordinator for The Deep Read and Lecturer at Porter College, will teach the course in Porter College. According to Martin, "the Deep Read course has been a meaningful way to bring together students with diverse disciplinary interests to study literature in the unique context of meeting and engaging with the authors we study and contributing to broader, public conversations with faculty and the Deep Read community. I think it offers students a model for how to apply their knowledge outside of the classroom, and it shows them how essential the careful reading of books is to public engagement, community building, and thinking through issues that matter."