We Are Not Free, a work of historical fiction by UC Santa Cruz alumna Traci Chee, has been named a finalist for the 2020 National Book Award for Young People's Literature.
The book was selected from nearly 1,700 submissions in five categories—Fiction, Nonfiction, Poetry, Young People's Literature and Translated Literature. The five finalists in each category were selected by a panel of literary experts, and the winners will be announced on November 18.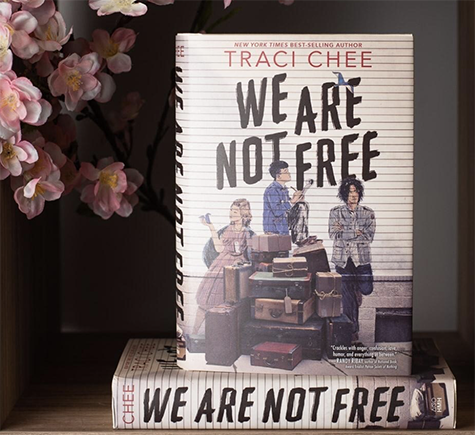 We Are Not Free is an intimate portrayal of 14 San Francisco teenagers whose lives are turned upside down by the forced incarceration of more than 100,000 people of Japanese ancestry during World War II. The book includes photographs and documents from the time period, enhancing the impact of a painful and devastating part of America's past.
Chee graduated from UC Santa Cruz in 2007, where she studied literature and creative writing, before earning a master of arts degree from San Francisco State University.
She went on to become a New York Times bestselling author of the young adult fantasy trilogy—The Reader, The Speaker, and The Storyteller—which includes a world where books and reading don't really exist.
At a 2017 event in Santa Clara for her first book, The Reader, Chee noted that she was inspired to create that world by an experience she had as a student at UC Santa Cruz.
"I've always been a lover of books, but it wasn't until I was an undergrad in senior year at UC Santa Cruz that I had to take this senior seminar, which was amazing because I was a creative writing major, so instead of writing a thesis or taking a final, we had to make books," said Chee. "We had to write them and actually sew them up together, it was super cool.
"And to help inspire us with this project, our instructor took us to the Special Collections at the McHenry Library at UC Santa Cruz. The librarians there had laid out these really amazing books that I had never thought of as books before. Like there was a book that was made out of a red high-heel shoe, you could open the shoe and it was filled with pages and you could actually read it! There was one that you couldn't read but was shaped like a book—it was made of metal and instead of words, it had all these circuits in it. And I just thought, this is so cool, the possibilities are endless.
"I think it actually turned into a line in one of the chapters," she added. 'Could anything be a book, if only you knew how to read it?' That kind of sparked this idea of what else could be a book? How else could we make meaning out of the things that are around us? What other types of literacy can I put into this world that doesn't have words or reading and writing the way we have?"
Due to the pandemic, the 71st National Book Awards Ceremony on November 18 will be held exclusively online this year. As part of the evening's ceremony, acclaimed author Walter Mosley will also receive the National Book Foundation's Medal for Distinguished Contribution to American Letters.
The National Book Foundation was founded in 1989 to administer the awards, which have been one of the most prestigious literary prizes in the country since 1950. Its mission is to celebrate the best literature in America, expand its audience, and ensure that books have a prominent place in American culture.
---
Original Link: https://news.ucsc.edu/2020/10/chee-national-book-award.html