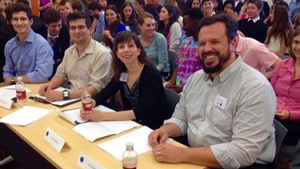 By Scott Rappaport
Each winter, high school students from Salinas to Marin County travel to Santa Cruz to participate in the Northern California High School Ethics Bowl.
Hosted by UC Santa Cruz, the event serves as a qualifying regional for the National High School Ethics Bowl, where the winner goes on to compete against other regional winners from around the country.
The Ethics Bowl is a collaborative yet competitive event–more nuanced than debate–in which teams are presented with a series of wide-ranging ethical dilemmas, asked to analyze them, and then judged on the basis of their analyses.
"In other debate formats, the goal is to convince the judges you're right," notes philosophy lecturer Kyle Robertson, founder and director of the UCSC event. "In Ethics Bowl, the goal is to convince a panel of judges that you've thought well about the cases."
The ethical dilemmas used in a high school ethics bowl range from those particularly relevant to young students (questions about cheating, plagiarism, peer pressure, use and abuse of social media, the right to privacy); to political and social issues (free speech, gun control, eco-tourism); and bioethical issues (cloning, parental consent).