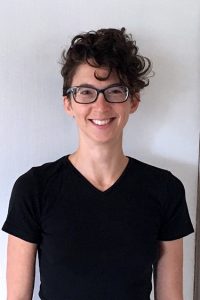 August 16, 2017
UC Santa Cruz humanities alumna Sophia Magnone has been named a 2017 Mellon/ACLS Public Fellow by the American Council of Learned Societies.
Magnone is one of 20 new Mellon/ACLS Public Fellows nationwide who will take up two-year assignments with government agencies and non-profit organizations, working in the fields of policy, civil rights, arts and culture, and the media.
Designed to expand the reach of doctoral education in the humanities, the career-building fellowship allows recent humanities Ph.D.s to gain significant experience in a variety of fields.
The program is made possible by a grant from The Andrew W. Mellon Foundation.
"Since ACLS launched the Public Fellows program in 2011, over 100 nonprofits and government offices across the United States have partnered with us to highlight the wealth of career fields where humanities Ph.D.s can not only make an impact, but thrive professionally," noted John Paul Christy, director of public programs at ACLS.
"By contributing their skills and expertise to some of society's most pressing issues, like immigration, equity and diversity, and mass incarceration, Public Fellows demonstrate that the humanities Ph.D. has serious practical and public value," he added.
Magnone–who graduated from UC Santa Cruz in 2016 with a Ph.D. in Literature–said she will be working as Development Manager for the Feminist Press in New York.