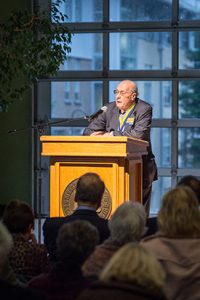 Over 150 donors commit nearly $1 million to support research, teaching, and public events
UC Santa Cruz has established an endowed chair to honor the person most responsible for the thriving Jewish Studies program that exists on the campus today.
Over 150 donors have committed a combined total of $977,130 to establish the new Murray Baumgarten Endowed Chair in Jewish Studies in the Center for Jewish Studies, located in the UC Santa Cruz Institute for Humanities Research.
The purpose of the chair is to promote research, teaching, and public outreach activities in the area of Jewish Studies.
"Murray Baumgarten is truly one of the finest, most decent people I've ever known," noted UC Santa Cruz Chancellor George Blumenthal.
"Wherever he goes, Murray builds community. He nurtured the Jewish Studies program, helped launch our Jewish Studies major, and teamed up with Peter Kenez to teach a legendary class about the Holocaust, the online version of which has reached more than 20,000 people in 60 countries. Murray is a campus treasure."