UCSC emerita professor Angela Davis to be inducted into the National Women's Hall of Fame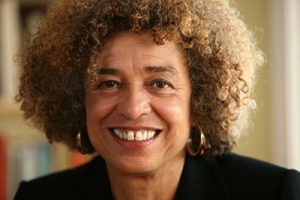 The National Women's Hall of Fame announced last week that UC Santa Cruz Humanities Professor Emerita Angela Davis will be inducted into the hall in September. Davis spent 15 years as a faculty member at UC Santa Cruz until her retirement in 2008 as a Distinguished Professor Emerita of History of Consciousness (an interdisciplinary Ph.D. program) and Feminist Studies. Scott Rappaport reports for UCSC News:
"In celebration of the 100th anniversary of the 19th Amendment giving women the right to vote, The National Women's Hall of Fame will host a weekend this September in New York honoring the achievements of American women in the birthplace of the country's Women's Rights movement.
The highlight of the weekend will be the induction of 10 prominent women into the Hall of Fame for their historic achievements. UC Santa Cruz distinguished professor emerita Angela Davis will be one of those women receiving that honor.
Her fellow inductees will include attorney and activist Gloria Allred, U.S. Supreme Court Justice Sonia Sotomayor, Native American lawyer and professor Sarah Deer, actress and activist Jane Fonda, United States Air Force officer Nicole Malachowski, former member of U.S. Congress Louise Slaughter, composer Laurie Spiegel, biologist Flossie Wong-Staal, and artist/activist Rose O'Neill.
The 2019 class of inductees were nominated by the public, judged by an interdisciplinary team of experts across the nominees' fields, and selected for their invaluable contributions to American Society in the areas of the arts, athletics, business, education, government, humanities, philanthropy, and science.
"We are pleased to add these American women to the ranks of inductees whose leadership and achievements have changed the course of American history," noted Betty Bayer, president of The National Women's Hall of Fame.
Through her activism and scholarship over many decades, Davis has been deeply involved in movements for social justice around the world. Her work as an educator–both at the university level and in the larger public sphere–has always emphasized the importance of building communities of struggle for economic, racial, and gender justice."