The University Library at UC Santa Cruz has completed a project to digitize 670 audio recordings featuring a wide variety of works performed at the Cabrillo Festival of Contemporary Music. 
Titled Digitizing the Cabrillo Festival of Contemporary Music: Putting Experimental Music in Conversation with Classical, the project preserves and now makes available live Festival performances from 1964 to 1990, featuring works by such experimental artists as John Cage, Annea Lockwood, and Lou Harrison. 
The recordings were drawn from both the Festival archives, which were donated to Special Collections in 1997, as well as the Bay Area music non-profit organization, Other Minds, which donated additional tapes to Special
Collections in 2016. The reel-to-reel tape format is particularly susceptible to degradation, and this project has ensured that the recordings have been preserved for future use.
Founded in 1963, the Cabrillo Festival is distinctive in its focus on contemporary symphonic music by living composers. 
"These recordings document the critical role the Cabrillo Festival of Contemporary Music played in shaping local culture and national practices surrounding classical and contemporary music," said Madison Heying, who received a Ph.D. in Cultural Musicology at UC Santa Cruz and co-wrote the grant application with Special Collections & Archives.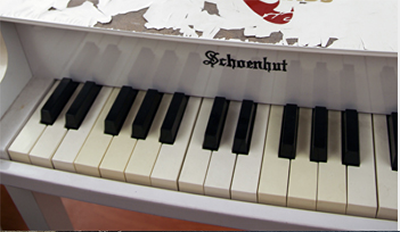 "One of the first music festivals to program contemporary, experimental, and world music alongside standard classical repertoire, the Festival became an important nexus for conductors, composers, performers, and the public."
This project was supported by the Recordings at Risk program—a national re-granting program administered by the Council on Library and Information Resources (CLIR) and funded by The Andrew W. Mellon Foundation—to support the preservation of rare and unique audio and audiovisual content of high scholarly value.
"We are delighted to make this unique resource available to the UCSC community and the public at large," said Kate Dundon, Supervisory Archivist at the Library's Special Collections and Archives. "It is especially significant that these recordings can now be accessed online while we are teaching and learning remotely."
"A pillar of contemporary music and local community catalyst, the Cabrillo Festival has been bringing people together for over 50 years. We hope we can strengthen that community spirit during this unprecedented time by making these recordings available to the world," she added. 
Dundon noted that digitizing 670 reel-to-reel tapes and making them accessible online was quite an ambitious undertaking. 
"The pandemic and wildfire certainly didn't help, but our project team worked together to overcome these challenges with the support of the CLIR Foundation and Elizabeth Cowell, our University Librarian and the principal investigator for the grant," said Dundon. "Overall, the project took one and a half years to complete, but it was well worth the time and effort." 
The recordings are now discoverable on the University Library Digital Media Collection site. Due to copyright restrictions, immediate streaming access is limited to UCSC affiliates. All other interested users—including researchers and the general public—may search and browse performance descriptions and request access from Special Collections. 
This marks the second grant that UC Santa Cruz has received from the CLIR to preserve the Cabrillo Festival tapes. Recordings from festival seasons 1991-2003 were previously digitized and are also available upon request.
_________________________________________________________________________
Original post: https://news.ucsc.edu/2020/10/library-cabrillo-recordings.html