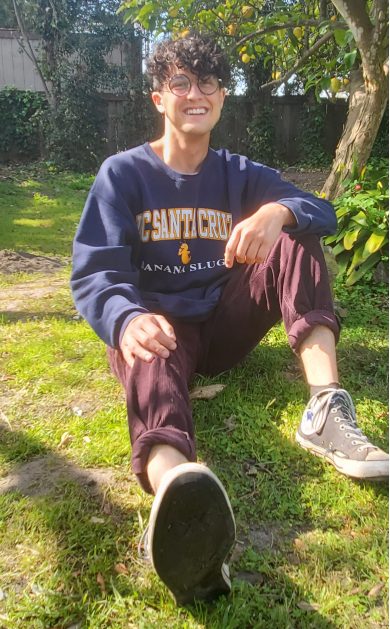 Jonah Gertz is an Intensive History major and Electronic Music minor at UC Santa Cruz. His senior thesis, "Japan and Methamphetamine: the Afterlife of Occupation and the Hiropon Age," examines the historical development of Japanese narco-culture. More broadly, Gertz examines how the relationship between society and drugs intersects with the history of imperialism — emphasizing the stakes of understanding this history for global conversations and policy around narcotics.
In April, we spoke with Gertz to learn more about his work and research interests. As the awardee of this year's the Bertha N. Melkonian Award, his project stands out as an exceptional example of undergraduate work in the Humanities. In our interview with Gertz, we discussed his interest in the study of drug history, the composition of electronic music, and how the pandemic has shaped his final years at UC Santa Cruz.
---
Your senior thesis, "Japan and Methamphetamine: the Afterlife of Occupation and the Hiropon Age," sounds absolutely fascinating. Can you tell us more about it? What would you like readers to know?
In short, my paper is about the methamphetamine crisis in postwar Japan (otherwise known as the "hiropon age" or "ヒロポン時代") and how the Supreme Commander of the Allied Powers (SCAP) was partially, if not mostly, responsible for the crisis' development and mishandling. In my experience, conventional historical narratives (at least those perpetuated within the U.S.) tend to treat the American occupation of Japan as a fairly productive and "good" measure in the wake of World War II. In writing "Japan and Methamphetamine: the Afterlife of Occupation and the Hiropon Age," I set out with the goal of instilling doubt about such narratives within my reader while simultaneously raising awareness of a particularly interesting moment in drug history.
What drew your interest to this topic?  
I am very interested in history related to drugs, drug epidemics and drug control. Drugs have fundamentally altered the development of human civilization, but are rarely mentioned within the context of American high school history classes (the "last stop" in formal historical education for many). I feel that, if more American people were made aware at an early age of the relationship between drugs and imperialism (particularly that of the West), both domestic and geopolitical discourse on the subject would be significantly more productive. Furthermore, as you might be able to guess given that I'm and Intensive Asian History Major, I'm particularly interested in the development of modern Japanese narco-culture.
It sounds like you've had a really great experience here at UC Santa Cruz. What have been some of the highlights of your time here? And how has the support you've found here fueled your interests?
My time at UC Santa Cruz has been so wonderful and productive, it's hard to pick only a few highlights. With that said, I felt extremely lucky and grateful when I found out that both Professor Noriko Aso (my main advisor) and Professor Gail Hershatter (my secondary reader) agreed to oversee my thesis during its proposal process last spring. Both Professors Aso and Hershatter, in addition to teaching me most of what I know about Asian history, really encouraged me to pursue independent historical research, an academic possibility I had very little awareness of going into my undergrad. Without their guidance, my academic career might have gone in a completely different direction. Right now I am also in the process of co-composing the soundtrack for a wonderful video game project called Love Heist Romeo through the Games and Playable Media Department. Ever since joining UC Santa Cruz's Electronic Music program in my sophomore year I've wanted to take on a project like this and I'm so thrilled to finally be making it happen. I also could not have asked for a better team to be doing it with.
That's wonderful to hear Jonah! To expand on this a bit, how has the intellectual environment of UC Santa Cruz shaped your time here as an undergraduate? 
I was taught to ask questions and engage with academic syncretism as a means of holistically absorbing historical content.
I'm an Intensive History major and an Electronic Music minor and I cannot speak highly enough about both departments. Within the history department, I feel that I was molded into a more socratic learner. I was taught to ask questions and engage with academic syncretism as a means of holistically absorbing historical content. Within the music department, I was encouraged to push the boundaries of my creative instincts. I came into UC Santa Cruz with a vision of playing bass in a touring band and I'm leaving with a solid background in soundtracking game projects. I never would have thought to go that route without the guidance of my amazing music professors.
Like the last one, this has been a very strange academic year in terms of managing the continuing fallout from the COVID-19 pandemic. How are you coping in this current moment, both in terms of your academic life and daily life? What do you do to try to stay focused and on target? 
This past year has fundamentally changed the way I work. Since last March, dealing with both my attention deficit disorder and long bouts of anxiety related to major world events has made it a huge struggle to keep myself on task with my thesis and other longterm projects. Unfortunately, there is no easy universally-applicable method for maintaining academic productivity at home. However, I will say that it is more important to create dedicated "work" spaces and "hang" spaces than one might think. When I created a work station for myself it really helped me separate my home and school life which allowed me to be more at ease when not working on my thesis. Also, if you really want to get some serious work done over the course of about three hours, put on some headphones and blast the Mario Kart soundtrack. It may sound silly, but in the finishing stages of my thesis the Mario Kart soundtrack propelled me forward in a way that absolutely nothing else could.