Welcome to Gilead
Hello and welcome to the first of 4 installments of the Deep Read: Margaret Atwood's The Testaments. In the midst of global public health uncertainty, our goal is simple: we want to provide you with ideas and suggestions that will enrich your experience of this novel, and really any book you pick up moving forward.
We spend a lot of time here at UC Santa Cruz working in our respective niches—Literature, History, Art, Science, Anthropology, you get the idea—and our scholars are among the best in the world. This program is an opportunity to share knowledge across these respective fields and use new methods to dig deeper into the text. Today is just a primer: we look at the practice of deep reading, think about the type of novel we're reading, and pose a few exploratory questions.

First things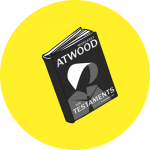 We hope you have your copy of The Testaments in hand and are starting to read it. Perhaps you've seen some or all of the Hulu series, The Handmaid's Tale. Perhaps you've read Atwood's precursor novel of the same name. But how do you read deeply? Here are some foundational principles to get you started.
Be engaged: Take in all the available information the book provides. Look at the cover. Look at the typography. Look at the chapters. Look at the epigraph. In this case, it starts with one of three epigraphs:
"Every woman is supposed to have the same set of motives, or else to be a monster."
—George Eliot, Daniel Deron
Questions to consider: What is this epigraph telling you? Is the novel supporting, opposing, or attempting to complicate the meaning suggested in the epigraph? How does this conformity vs monstrosity opposition play out through the rest of the novel? What is its relationship to the other two epigraphs? Are we entering into a world that is about conformity, perception, the experience of women?
Mark the text and take note: In the words of Mortimer Adler, "If reading is to accomplish anything more than passing time, it must be active." Don't be afraid to underline, write in the margins, circle things that resonate. The advantage of reading deeply with us is that you can always send your questions, observations, and ideas, and we can share them back to the Deep Read community.You're not alone on this one. We're all reading this book together. So don't hesitate to send a note to deepread@ucsc.edu with a photo of a page with your notes, a question that arises, a thought that forms.
Get reading! You have 4 weeks to read this book. Some of you have started. But how many pages a week do you need to read to get this read without losing sleep? Note that down and hit your weekly goal.

Atwood and Gilead
UC Santa Cruz Professor Laura Martin is teaching a class on Margaret Atwood's Dystopian Fiction. She kicks off her class with this idea:
Recently labeled "the prophet of dystopia," Margaret Atwood has long been a prolific and exacting writer of dystopian fiction, a subset of science fiction, or, as she prefers to call it, "speculative fiction." The underside of utopia is dystopia, an apocalyptic, corrupted counterpart to an imagined paradise of social and political perfection.
Atwood zeroes in on how dystopian and utopian elements are present in both kinds of fiction. She even coins the term, "ustopia" to describe this perpetual overlap of dystopian and utopian elements, and it is the label she affixes to her own speculative fiction, such as The Handmaid's Tale and The Testaments.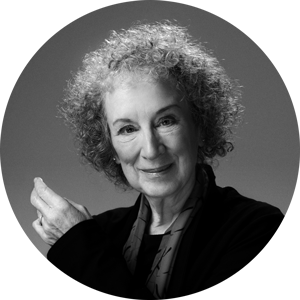 Another way to understand this interplay between dystopian and utopian is to look at a cultural example, like Instagram. Indeed, Instagram can be a place to keep tabs on your friends and family. But, we can all recognize that the lives we present on social media are slightly better than the lives we live. And influencers curate images of their lives full of perfect bodies, vacations, meals, and families. This is the utopian side of Instagram. At the same time, the images we share are curated not by the feeds we think we choose, but by the algorithm-based, revenue-driven decisions of Facebook. This is the dystopia. The infinite scroll of images on Instagram belies the billions in revenue and algorithm-based social engineering that goes into everything you see. The existence of the utopia alongside the dystopia is the ustopia.
Dayna Tortorici chronicles the problematic world of Instagram in a great personal essay, "Infinite scroll: life under Instagram." Here's her take on Instagram's influence on our built environment:
New storefronts and restaurants were likewise optimised for the image. Considerations such as comfort, accessibility and acoustics were secondary to visual appeal. It was as if the landscape itself had dysmorphia, altering its physical appearance to fit an arbitrary standard that undermined its primary function.
Instagram images adversely affecting the real world use of spaces are unintentional examples of ustopias, as Atwood defines it. When it comes to creating these worlds in art, Atwood stipulates that "any writer of ustopias has to answer three necesary questions: when is it, where is it, and in relation to maps—what shape is it? For unless we readers can believe in the ustopia as a potentially mappable place, we cannot suspend our disbelief willingly."

So the questions to start with are, when is this story happening? Where is this story happening? And what shape is it? As you'll see, with The Testaments, the answers are both explicit and interpretive. There are many tangible clues as to what's happening within the world of the book, when things are happening, and where. But how the story unfolds, through the points of view of three women in different times and places, either sketches a successful ustopia for you or fails at it. What do you think? Is this world believable?

Some things to look for as you read are moments when the world is horrific and dark, but also moments that contain little utopic glimmers. What do these instances tell you? Why are they here?

As you start to read, you can also start to think about how the themes of the novel inform the world around you. How is Atwood drawing from current issues in the world around us (the Trump era, anti-refugee ideology, closed borders)? What is ustopic in your world? Where do you see elements of utopia and dystopia at play? Do you see them as overlapping elements?

We hope you'll read deeply and share your observations with a note to deepread@ucsc.edu. Next week, we'll look at The Testmants through the lens of feminist thought and talk with Dr. Marcia Ochoa, UC Santa Cruz professor of Feminist Studies.

So stay attuned.

|
Share