Hello Deep Readers,
Welcome to week two of our four-week exploration of Tommy Orange's novel, There There. By now, we hope you have the book and have started reading. If you start reading this week, you should be reading around 100 pages a week to finish by the end of the month. So, dive in!
Last week, we discussed ways of reading deeply and the New Native Renaissance. The responses you shared on our website have been great. A highlight was a comment by Ginnie Mickelson on how she reads deeply: "…rather than reading the end and returning, I read the book twice, the second time more slowly, frequently sitting with my reactions and making notes." Thanks for sharing this, Ginne. We hope to see more comments and conversations this week, as we dig deeper into the novel.

Indigenous Past & Futures
This week, we present a Q & A with Katie Keliiaa, a historian and a UC Santa Cruz assistant professor of Feminist Studies. Keliiaa is from the Bay Area, and her research and writing focuses on 20th-century Native issues, with an emphasis on the West. She's also Washoe and Yerington Paiute—and an avid deep reader!
The Deep Read: Hello Katie! Thanks for taking the time to speak with the Deep Read Community. Tell us about your immediate reaction to reading There There.
Katie Keliiaa: Well, I'm brand new here to UC Santa Cruz, so I'm really excited to be a part of this project. I was born and raised in the Bay Area, so I identify as an urban Indian woman. For me, this book feels like I can see myself in it. When I read There There for the first time, I felt like I was a part of this world. I felt represented; I felt reflected. Native people don't always get that. And I think a lot of Native people from the Bay Area, from the East Bay in particular, really see themselves in this novel, which, again, really is just a reflection of us. For the first time, I think there's more attention to urban Indian issues and what they look like.
The Deep Read:Could you tell us a little bit about your work and how you see it connecting to There There?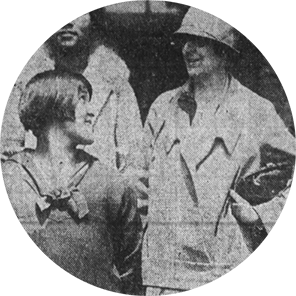 Katie Keliiaa: I'm a historian, and I look at the broader ways that federal policy affects Native people. The project that I'm working on right now is something I call "Unsettling Domesticity." It looks at Native women who were domestic workers in the Bay Area from about 1920 to 1942 (pictured at left from the Oakland Tribune, 1927). Particularly I examine something called the Bay Area Outing Program. This federal program's specific goal was to funnel Native women and girls from Indian boarding schools to work as live-in housemaids.
These girls came from Oregon, Nevada, and Southern California to live and work in the Bay Area and do a physically demanding job. We didn't have washers and dryers at the time, so these young girls, some as young as 14, are coming into the homes of these fairly affluent white families, and they're doing back-breaking work—basically they're servants. And it's important to remember that this is a racialized and gendered program just for Native women. For about 20 years, this program brought well over 1,000 Indian girls and women to do this work in Piedmont, Oakland, Alameda, Walnut Creek, and the greater Bay Area. Typically, they were sent for the summer, but often they stayed and continued to live and work in the Bay Area. Often, these outing programs are defined as forms of assimilation, but I see them as labor programs.
One thing I found remarkable was that even though the girls were isolated—literally in the homes of their employers—they started to build community. These Native women in the 1920s, '30s, and '40s began to organize through the Four Winds Club and create community (pictured at right from the Oakland Tribune, 1944). Ultimately their efforts became the foundation for the Intertribal Friendship House in Oakland.
The Deep Read: Were these domestic labor programs the main driver relocating Native people to urban areas?
Katie Keliiaa: Not exactly. The larger, federal relocation program happened in the 1950s. So really, outing in the Bay Area was a precursor to Indian Relocation. And the logic behind that program was to take Native American people off the reservation and bring them to the city—whether it's Los Angeles, Chicago, Oakland, San Francisco—and get them jobs. This program gave relocatees temporary housing and paid for their bus fare. And the idea was that, once they get to the city, they'll have more skills, become assimilated and then [the Federal Government] is done with them.
What's really fascinating, at least for me, is that the Indian Relocation program largely mirrored what happened post-Japanese Internment. During WWII there was an insidious relationship between the War Relocation Authority and the Bureau of Indian Affairs. The whole goal, continuously, was assimilation. So, first it was Japanese assimilation into the interior of the United States. And then assimilation of Native Americans by relocating them to cities.
Tommy Orange really lays this out in his novel, saying that the point of relocation to urban areas was assimilation. But, we Native people embraced the city. That's something I've always known in my bones, from my own personal experience. And, now, it's something that we finally see reflected on the page.
The Deep Read: What drove relocation as a policy?
Katie Keliiaa: It was very clear that reservations had failed. They were always going to fail. The way they were developed was not a space for prosperity. It was literally a form of containment. I think the idea from the perspective of the U.S. government was, if we get them to the city, they're going to stop speaking their language. They're going to, you know, not really have many ties to home. And that means nobody has any more land claims. We no longer have the Federal Trust Responsibility for Native tribes.
This all connects to There There with a beautiful quote from the Prologue. Tommy says, "getting us to cities was supposed to be the final, necessary step in our assimilation, absorption, erasure, the completion of a five-hundred-year-old genocidal campaign. But the city made us new, and we made it ours." I actually use this quote in my book. To me, this quote is like a love letter to the city. It is saying that this policy of Relocation was supposed to end us, but it didn't. And, in fact, we used the city to build communities, to ensure Indigenous futures. And this is exactly what's happened, and it is the reason why I feel at home in the Bay Area as a Native person and not separated from my community.

Go Deep
Katie Keliiaa shared her personal and historical take on the historical context of There There. From her perspective, the novel is a powerful counterpoint to the moves by the government to abdicate responsibility for Native people and to fragment and, ultimately, eradicate Native communities. Do you see characters in the novel who resist assimilation, or points in the novel that speak to resisting assimilation?
As you read this week, think about moments and aspects of the novel that reflect this urban community that formed in the wake of waves of relocation and attempts at forced assimilation. How does Orange depict the policies of the US government? What is the significance of the novel opening with a powerful essay unflinchingly depicting both the violence and resilience of Native American experience and identity? How do you see this twin experience of violence and resilience playing out in the early parts of the novel? How do the opening chapters relate to the Prologue and its position on urbanization as resistance, not capitulation, to assimilation? What are some other ways that you see the personal stories of the characters interacting with historical moments depicted in the novel? What do you think the novel is saying about the relationship between the personal and the historical?
Join the community conversation: We encourage you to think through these questions as you read and share your thoughts in the comments below 👇
Community Conversation
Share your thoughts, reactions, and ideas with the Deep Read Community. Please note, comments are moderated and won't populate immediately. Send any questions to deepread@ucsc.edu.