UCLA Professor Returns to Home Campus for Shakespeare and Community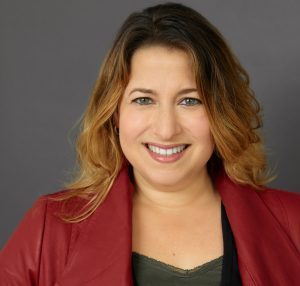 Ariane Helou is a graduate of the Literature department at UC Santa Cruz, and was a 2013-2014 THI Summer Dissertation Fellow. Helou now teaches in the Department of French and Francophone Studies at UCLA. When Helou returned to UC Santa Cruz this August to take part in Weekend with Shakespeare, THI caught up with her to discuss her memories of UC Santa Cruz, The Winter's Tale, dramaturgy, and the ongoing role of theater in her scholarship.
You're a UC Santa Cruz alumna, and you have returned to campus this August for Weekend with Shakespeare, presented by Shakespeare Workshop and Santa Cruz Shakespeare. How does it feel to be back? What memories does the UCSC campus hold for you as a former PhD Candidate and Lecturer (and what are you happy to forget!)?
It feels great to be back! I'm always happy to be among the redwoods on this beautiful campus, and grateful to the Weekend With Shakespeare team for the invitation to continue engaging with this community. As anyone knows who's spent time in a PhD program, grad school is not all sunshine and butterflies and free pizza, but I truly value my time at UC Santa Cruz. I was lucky to be part of a fabulous, dynamic, collaborative student community and to have such intellectually generous and supportive mentors.
You gave a talk at the Weekend about your role as dramaturg of this year's Santa Cruz Shakespeare production, The Winter's Tale. How can scholars enhance community participation in and appreciation for Shakespeare?
I think there's really no limit to how scholarship and community can enhance each other. Public events like the Weekend educate the community, providing context for plays and other artistic or cultural events; they also invite the broader community to become involved in university life. Absolutely anybody can join the conversation. And it's a boon for researchers to share our work with people who don't necessarily have a professional stake in it, but are simply curious to know more. The discussions at these events are eye-opening and generative; they often make me reflect on things in a new light. Questions from the public can even inspire thinking about future research projects!
Can you share your thoughts and reflections on the production of The Winter's Tale this year, and your role in it?
The Winter's Tale is one of my favorite plays, so I was excited about the opportunity to work on this production. But even with plays I think I know very well, I discover during the rehearsal process exactly how much I don't know. That's doubly true of Winter's Tale, which is dramaturgically challenging: it resists easy categorization as drama or comedy, it hops across time and space. But what makes it strange or difficult also makes it ripe for exploration. I loved working with director Raelle Myrick-Hodges; her vision for the play was bold and insightful, and her process is very collaborative. Our marvelous cast was a joy to work with. I'm proud of the beautiful show we all made together. But I also feel that The Winter's Tale is one of those plays, like Hamlet, that one is never quite done with; it still has more secrets to reveal.
You're now at UCLA, teaching and researching drama, music, and poetry in early Modern England, Italy, and France. How does live theater feature in your professional life?
Live theater is absolutely integral to my professional life. I began working with the Shakespeare festival midway through my PhD program, and it fundamentally changed the course of my research. I became a Shakespeare scholar because of this opportunity to engage with textual studies and performance practice simultaneously, and I've applied that approach to my research in early modern drama ever since. My experience as a theater artist has also informed my teaching in unexpected but fruitful ways, shaping my presentation style as well as giving me tools for engaging students interactively.
When we give of ourselves openly and in a spirit of community, we stand to get everything.
What are your own goals as a dramaturg, professionally, artistically, personally? What do you think you'll take away from this summer's experience?
Much as I love Shakespeare, I'm thrilled to be working with emerging playwrights as well. I'm a member of the Los Angeles-based theater company Collaborative Artists Bloc, which is dedicated to producing new work by under-represented voices. This combination of dramaturgy of classic and contemporary plays, integrated with scholarship and public outreach, has already been fruitful for my academic work; I hope it will also lead to opportunities in other artistic fields, like directing and playwriting. Whatever I do next, I'll be thinking about something that struck me repeatedly during rehearsals for The Winter's Tale: the generosity of so many of the actors in listening and responding to their colleagues on stage. It seems obvious that generosity should be essential to the performing arts, academia, and public life, but it's missing all too often. If we give each other nothing, we get nothing. But when we give of ourselves openly and in a spirit of community, we stand to get everything.
---
Read more about this year's Weekend with Shakespeare.
Featured image photo credit: Crystal Birns.