Critically acclaimed author to celebrate publication of new book on Oct. 2 with Santa Cruz event
Earlier this week, the New York Times published an op-ed by UC Santa Cruz alumna Reyna Grande titled The Impossible Choice My Father Had to Make.
The piece was a response to a statement by Ivanka Trump that appeared to blame immigrant parents for the separation of families this summer at the United States-Mexico border.
"While Ms. Trump's father was separating thousands of families through his 'zero tolerance' policy, I thought about my own father and the choice he had to make: leave me behind in Mexico or put my life at risk by bringing me to America for a chance at a better future. It was not a decision he made lightly," said Grande in the New York Timespiece.
"While she is passing judgment on immigrant parents like my father, her father's administration is making it harder for families to seek legal entry into the United States by tightening the standards for asylum and legal migration," Grande added.
"No parent wants to uproot and risk his or her child's life. Unlike Ms. Trump's mother, my father was an economic migrant, too poor to qualify for even the most basic visa requirements. He was a maintenance worker with a third-grade education, and the only way to give his children a better future was to break the law."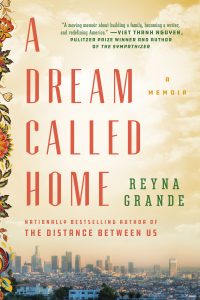 Now a U.S. citizen, Grande grew up in extreme poverty in rural Mexico. She was only two when her father left Mexico to look for work in the U.S. Her mother followed two years later, leaving Grande behind in Mexico. In 1985, when she was almost 10, Grande crossed the border as an undocumented immigrant.
Overcoming the language barrier and her status as an undocumented immigrant in the United States, Grande made the most of her new home, eventually earning a bachelor's degree in creative writing/film & video from UC Santa Cruz in 1999. For her senior project in UCSC's Literature Department, she even wrote the first 80 pages of her debut novel, Across a Hundred Mountains.
"I identify so much with young undocumented child immigrants because I came to the U.S. as one myself," Grande told me in a 2012 interview. "I also spent years worrying about my legal status, fearing deportation. But I came to the U.S. at a time when something wonderful happened–the amnesty of 1986, the Immigration Reform and Control Act, which allowed almost 3 million people, including both my parents, to legalize their status."
"When I got my green card I felt the whole world open up to me," she added. "And now I am paying back everything this country has given me, and I will continue to do so until the day I die."
Grande is currently the author of three critically acclaimed books. Her last one, The Distance Between Us, was a memoir about her life before and after illegally immigrating from Mexico to the United States. A finalist for the National Book Critics Circle Award, it was described by the Los Angeles Times as "a brutally honest book…the Angela's Ashes of the modern Mexican immigrant experience."
At the time it was published, the Washington Independent Review of Books noted that "This book would be fabulous required reading for college freshmen—or even better, for members of Congress."
Grande's upcoming book, A Dream Called Home, is set to be published on October 2. A sequel to The Distance Between Us, her new book begins where her last book left off—at her arrival at UC Santa Cruz, where she began her quest to become the first person in her family to earn a university degree and to become a writer.
Grande will celebrate the publication date on October 2 with a book launch in Santa Cruz. She will discuss her new memoir in a conversation with UC Santa Cruz literature professor Micah Perks, beginning at 7 p.m. at the Peace United Church (900 High Street).
Presented by Bookshop Santa Cruz and The Humanities Institute at UC Santa Cruz, the event is free and open to the public. Free copies of the new book will also be available to the first 50 students (with student ID) at the door.