The Humanities Institute (THI) is excited to announce an Undergraduate Public Fellowship opportunity for Humanities students at UC Santa Cruz to work with the Santa Cruz Museum of Art & History (MAH). THI's Public Fellowships connect students in the Humanities to projects in the community, with the aim of mutually benefiting students and community organizations. The program provides undergraduate students with hands-on training and professional experience and is available to students who are declared majors and/or minors of a department in the Humanities Division at UCSC.
---
Job Title: Assistant Archives Coordinator, MAH Exhibitions & Programs
Application deadline: Wednesday October 18th, 2023
This position has been made available by a generous grant from The Humanities Institute, and as such, only applicants that are declared majors/minors in the Humanities Division of UCSC will be considered. This program is intended to provide undergraduate students with the chance to gain some professional experience in the field of Public Humanities that they can use once their studies are completed. Selected students will be named Public Fellows of The Humanities Institute.
---
About the Project:
The Santa Cruz Museum of Art & History (MAH) is a thriving community gathering place that offers rotating art and history exhibitions, visual and performing artworks, public festivals, education and outreach programs, and cultural celebrations in collaboration with our many partners. The location is 705 Front St., in downtown Santa Cruz.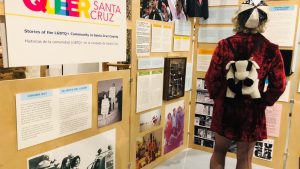 We are looking for an undergraduate student to work with the MAH's Exhibitions & Programs team throughout the academic year (approximately November 2023-June 2024). The Assistant Coordinator who is chosen for this fellowship will be working closely with Marla Novo, the MAH's Exhibitions & Programs Director, Jessie Durant, Archives Specialist, and other staff on the MAH's Exhibitions & Programs team.
Intern Duties will include:
Assist in creating educational activities and programs related to the MAH Archival LGBTQ / Diversity Center Collections including a walking tour of historic places and lesson plans using archival materials and the online catalog [30%]

Scan or photograph original records, which includes textual records, photographs, or oversized objects from MAH Archival Collections [20%]

Prepare records for digitization through holdings maintenance actions such as sleeving torn documents, removing staples, and rearranging records. [10%]

Create associated metadata, based on archival standards, for upload into the online catalog [15%]

Catalog items in the the MAH's CMS (Past Perfect) [15%]

Hold weekly check-in meetings with Jessie to discuss progress and work tasks [10%]
Students are expected to work 10-20 hours per week and will be paid $15.50 dollars per hour for their work .
Students who are awarded this fellowship opportunity will be required to present their work to The Humanities Institute.
---
You're an ideal candidate if you:
Have some digital media experience

Have experience with databases and spreadsheets

Are able to do repetitive tasks

Have an interest in public history, art, creativity, engagement, and curatorial practices

Have an interest in the fields of archival science, library science, digital preservation, and digital asset management.

Are dependable

Are able to work independently

Are comfortable interacting with the public

Are in good academic standing

Are a declared major or minor in the Humanities Division at UCSC (required)

Are bilingual in Spanish (a bonus but not required)
---
How to apply:
Apply by sending your resume with a short cover letter (no more than one page) answering these questions: Why this job? Why you? Why now? A tip for writing this cover letter is to consider how this position will further your undergraduate career as well as your professional career once you have completed your education. What are some ways you have worked in the public history field; or if you haven't, what intrigues you about the possibility? What are some exciting ways you have thought about how one might engage local communities through historical programming? Feel free to be creative here. Work in the Public Humanities does not have a rigid framework and innovation and the ability to adapt is a key component.
Once the application closes, there will be an in-person interview process with selected candidates throughout October, with official duties beginning in November 2022.
We are very excited about this opportunity for Humanities undergraduates, and wish you the best of luck in your application!
Students should apply via Handshake using job number #8233848.
Note that there are two different THI Undergraduate Public Fellowships at the MAH this year. Information about the Assistant Education Coordinator position is available here.
Please contact Research Programs and Communications Manager, Saskia Nauenberg Dunkell (saskia@ucsc.edu), with any questions.
---
THI's 2023-2024 Undergraduate Public Fellowships are generously supported by the Helen and Will Webster Foundation and the Mellon Foundation.