Events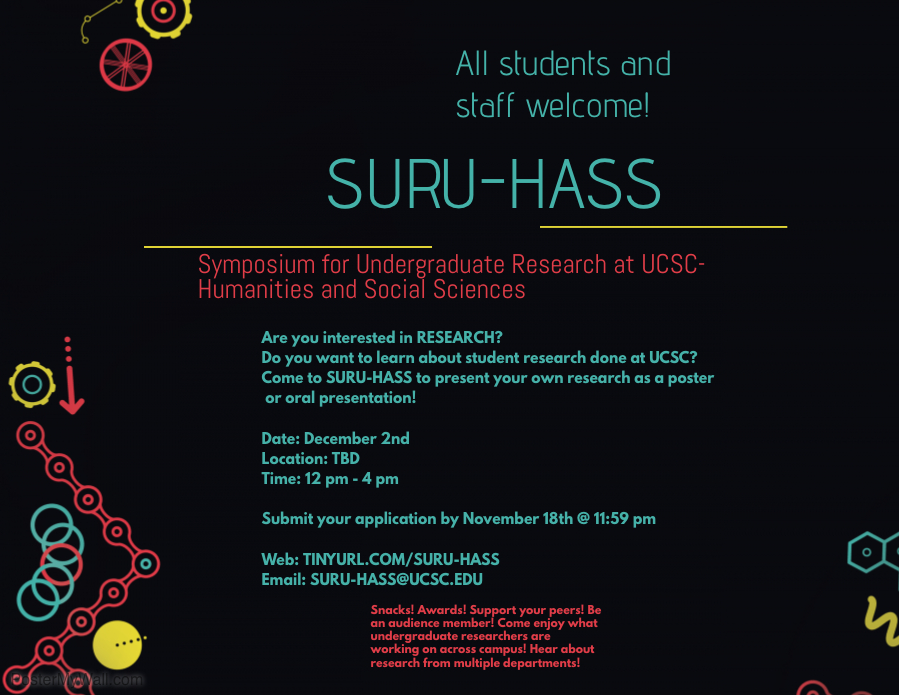 2017 Symposium for Undergraduate Research at UCSC – Humanities And Social Sciences
December 2, 2017 @ 12:00 pm

-

4:00 pm

|
Share
The Symposium for Undergraduate Research at UCSC – Humanities And Social Sciences (SURU-HASS) is an event designed to allow students from different disciplines to come together to share and learn about research. Because of a need for more events like this in the Humanities and Social Sciences, we especially encourage students from those disciplines to apply, but research projects from all areas are welcome!
The application deadline is November 18, 2017 at 11:59pm and the event will take place on December 2, 2017.
Check out the SURU-HASS website to learn more: https://tinyurl.com/SURU-HASS
What SURU-HASS can do for you:
– We will be hosting workshops for doing an oral presentation and making a poster to help you with practical presentation skills!
– This symposium is a great opportunity to network with other undergraduates, graduate students, and even faculty and staff, within your major and beyond.
– The symposium is an opportunity to know the real-world problems other majors are trying to solve.
For more information contact: SURU-HASS@UCSC.EDU