Events

2023 Helene Moglen Lecture in Feminism and Humanities with Wendy Brown – After Humanism and the Nation State: More Democracy, Democracy that is More, or Democracy No More?
May 9 @ 4:00 pm

-

6:00 pm

| Cowell Ranch Hay Barn
Share
In most accounts of dangers to democracy today, the value of the object is assumed. At the same time, we know that the "demos" of Western democracy violently excludes all nonhuman life and much of humanity too. Democracy is no form apart from this content, no principle floating freely above these histories. Democracy also requires certain cultural, educational and economic conditions; certain spatialities and temporalities; and modest access to visible levers of power. Absent these, the vox populi may well become a terrible, and terrifying, screech. This talk reflects on these and other predicaments of democracy today. It asks, without answering, how to approach this imperiled creature now.

In-person attendance
The lecture will begin at 4:00pm, with a Q&A and reception to follow.
Doors will open at 3:30pm

Virtual attendance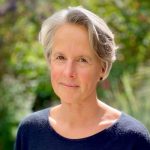 Wendy Brown (Crown '77, Politics and Economics double major) is UPS Foundation Professor in Social Science at the Institute for Advanced Study, Princeton and Class of 1936 Chair, Emeritus, at the University of California, Berkeley. She is the author, most recently, of In the Ruins of Neoliberalism: The Rise of Antidemocratic Politics in the West (2019) and Nihilistic Times: Thinking with Max Weber (2023). From 1989-99, Professor Brown taught at UCSC in the Department of Women's Studies and worked closely with Helene Moglen to build Feminist Studies.
This lecture is presented by the Center for Cultural Studies and made possible by the Helene Moglen Lecture in Feminism and Humanities for the Center for Cultural Studies Endowment, The Humanities Institute, and the Department of Politics.
If you have any questions or concerns, please contact Sadie Lynn at sklynn@ucsc.edu.