Events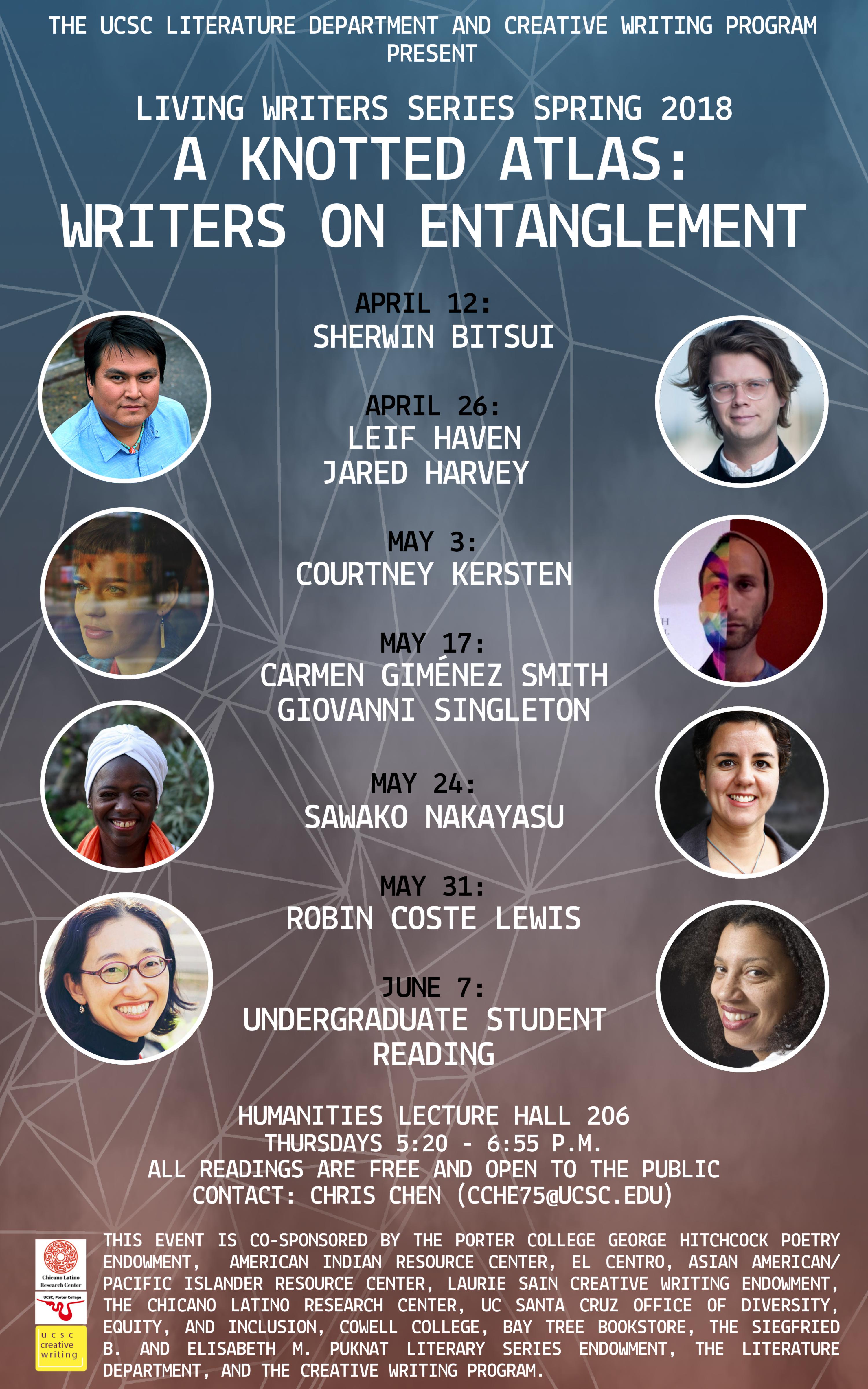 Living Writers Series: Sherwin Bitsui
April 12, 2018 @ 5:20 pm

-

6:50 pm

| Humanities Lecture Hall, Room 206
Share
Originally from White Cone, Arizona, on the Navajo Reservation, Sherwin Bitsui is the author of two collections of poetry, Flood Song (Copper Canyon) and Shapeshift (University of Arizona Press). He is Diné of the Todí­ch'ii'nii (Bitter Water Clan), born for the Tlizí­laaní­ (Many Goats Clan) and holds an AFA from the Institute of American Indian Arts Creative Writing Program and a BA from University of Arizona in Tucson. His recent honors include a 2011 Lannan Foundation Literary Fellowship and a 2011 Native Arts & Culture Foundation Arts Fellowship. He is also the recipient of 2010 PEN Open Book Award, an American Book Award, and a Whiting Writers Award. Bitsui has published his poems in Narrative, Black Renaissance Noir, American Poet, The Iowa Review, LIT, and elsewhere.
Steeped in Native American culture, mythology, and history, Bitsui's poems reveal the tensions in the intersection of Native American and contemporary urban culture. As an ecopoet, his poems are imagistic, surreal, and rich with details of the landscape of the Southwest.
Spring 2018 Living Writers:
A Knotted Atlas: Writers on Entanglement
This spring quarter will feature eight contemporary writers who explore the knotted spaces and generative possibilities of entangled lives. Their works illuminate the historical enmeshment of cruel futures and hidden histories, persons and things, race and freedom, kinship and loss, and the human and non-human natural world.
April 12: Sherwin Bitsui
April 26: Leif Haven, Jared Harvey
May 3: Courtney Kersten
May 17: Carmen Gimenez Smith and giovanni singleton
May 24: Sawako Nakayasu
May 31: Robin Coste Lewis
June 7: UCSC Creative Writing Program, Undergraduate Student Reading
Humanities Lecture Hall, 206
Thursdays, 5:20-6:50 PM
All Readings are Free and Open to the Public
Contact: Chris Chen (cche75@ucsc.edu)
This event is co-sponsored by the Porter College George Hitchcock Poetry Endowment, American Indian Resource Center, El Centro, Asian American/Pacific Islander Resource Center, Laurie Sain Creative Writing Endowment, the Chicano Latino Research Center, Cowell College, Bay Tree Bookstore, the Siegfried B. and Elisabeth M. Puknat Literary Series Endowment, the Literature Department, and the Creative Writing Program.