Events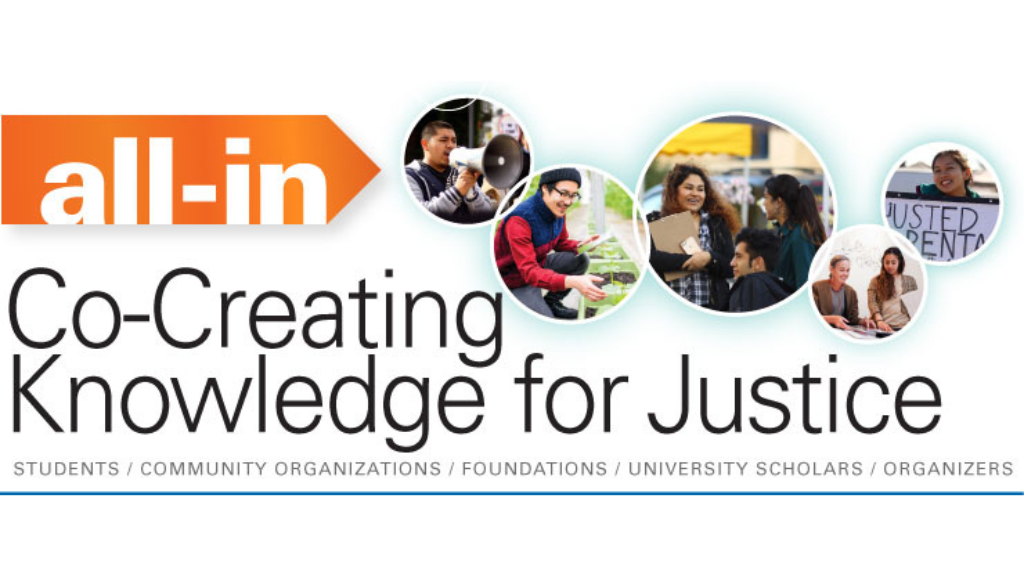 All-In: Co-Creating Knowledge for Justice Conference
October 26, 2022

-

October 28, 2022

|
Share
All-In: Co-Creating Knowledge for Justice Conference
October 26-28, 2022 | Santa Cruz, CA
There is an exciting resurgence in critical public scholarship: a push for universities to reach beyond their academic audiences and build stronger community-university partnerships to jointly tackle pressing social issues. Indeed, the complexity and scale of our social ills require not only inter-disciplinary approaches, but recognizing the value of community-based knowledge and its potential contribution to developing solutions to pressing problems.
Join Us!
We are hosting an in-person conference and celebration of community-university partnerships on October 26-28, 2022, in beautiful Santa Cruz, CA. This event is organized by the Institute for Social Transformation and URBAN, and THI is a co-sponsor.
Be a part of this 3-day national conference that focuses on sharing strategies to expand and deepen collaborative approaches for the truly equitable co-production of knowledge. We will explore the dynamic links between campus-community partnerships, hands-on research, and student-community engagement. Together we can build partnerships for change. #knowledge4justice
Register
UPDATE September 7, 2022: Registration is now CLOSED. Thank you for the interest in joining us for All-In! We have now reached capacity and are looking forward to a powerful and productive conference.
Program Description
Variously known as Research-Practice Partnerships, Community-based Research, Participatory Action Research, or Engaged Scholarship, the field is developing new approaches that share a commitment to creating truly equitable partnerships across all aspects of the research process.
The All-In conference will bring together university scholars, community-based practitioners, undergraduate and graduate students, community members and organizations, foundations, organizers, artists, and activists to share stories, strategies, practices, and solutions for building innovative partnerships for critical collaborative research and social change.
We will also discuss methods for building institutional support for collaborative research, how to strategically leverage relations with collaborative partners, and how to build cross-sector networks for practitioners, students, and early career scholars.
Schedule & Program
The conference will take place over 3 days on October 26-28, 2022, in beautiful Santa Cruz, CA. Click here for the schedule and program.