Events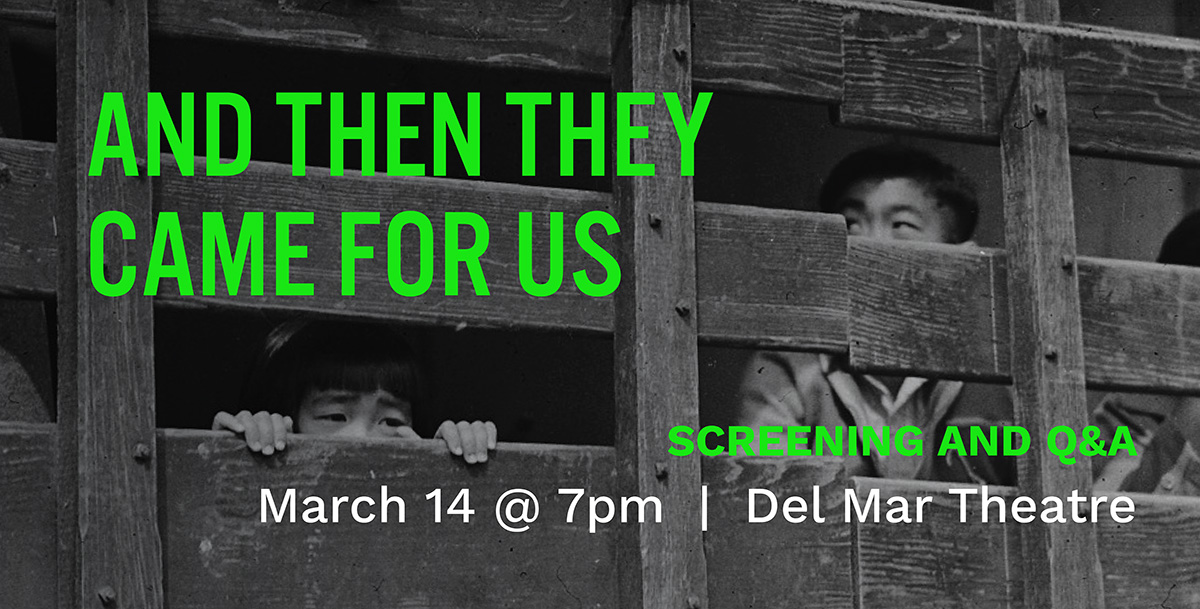 And Then They Came for Us: "From the Incarceration of Japanese Americans to the Travel Ban"
March 14, 2018 @ 6:40 pm

-

8:30 pm

| Del Mar Theatre
Share
Seventy-five years ago, Executive Order 9066 paved the way to the profound violation of constitutional rights that resulted in the forced incarceration of 120,000 Japanese Americans.  "And Then They Came for Us" brings history into the present, retelling this difficult story and following Japanese American activists as they speak out against the Muslim registry and travel ban.  Knowing our history is the first step to ensuring we do not repeat it.  "And Then They Came for Us" is a cautionary and inspiring tale for these dark times. Part of the Humanities Institute's Freedom and Race Series.
Presented by The Humanities Institute and Cowell College. Co-sponsored by the Office for Diversity, Equity, and Inclusion, CRES, Stevenson College, the History Department, and McHenry Library.
Due to overwhelming interest, this event is SOLD OUT. We hope to see you at another event soon!
Film screening and panel discussion.
6:40 pm – Doors open
7:00 pm – program begins
Parking and directions to the Del Mar Theater here
If you have disability-related needs, please contact The Humanities Institute at thi@ucsc.edu or call 831-459-1274.
Featuring:
Abby Ginzberg – Director "And Then They Came for Us"
Donald K. Tamaki – Managing Partner of Minami Tamaki
Ammad Rafiqi – Civil rights attorney with the Council on American Islamic Relations
Q & A moderated by Alice Yang – History Professor, UC Santa Cruz
Abby Ginzberg is a Peabody-winning producer and director who has been making award-winning documentaries about race and social justice for the past 30 years. Her most recent film, "And Then They Came for Us" has screened at film festivals across the country. Agents of Change, co-directed with Frank Dawson, tells the story of the black-led student protest movement of the late 1960's on college campuses. It will be broadcast on America Reframed in Feb, 2018.
Her film Soft Vengeance: Albie Sachs and the New South Africa won a Peabody award in 2015 and has screened at film festivals around the world, winning four audience awards for Best Documentary. The Barber of Birmingham, (Consulting Producer), was nominated for an Oscar in the short doc category in 2012.
Donald K. Tamaki is the Managing Partner of Minami Tamaki LLP in San Francisco. In 1983 to 1985, he served on the legal team which reopened the landmark U.S. Supreme Court case of Fred Korematsu, overturning his criminal convictions for refusing to be interned. The reopening was based on newly discovered evidence from the Justice Department, War Department, Navy, F.B.I., and F.C.C. admitting that Japanese Americans had committed no wrong and posed no threat. Other Justice Department memoranda characterized the Army's claims that Japanese Americans were spying as "intentional falsehoods." These official reports were never presented to the Supreme Court, having been intentionally suppressed, altered and destroyed pursuant to the orders of high government officials so as to manipulate the outcome of the Korematsu decision. Mr. Tamaki graduated Phi Beta Kappa from UC Berkeley in 1973 and received his J.D. from Berkeley in 1976. Upon graduation, he practiced poverty and civil rights law in San Jose and there, he co- founded the Asian Law Alliance, a public interest law firm which has provided representation and advocacy for thousands of low-income Asian Americans in Santa Clara County, and is a past Executive Director of the Asian Law Caucus in San Francisco, the nation's first public interest law firm representing Asian Americans in civil rights and poverty law cases.
Ammad Rafiqi is a civil rights attorney with the Council on American Islamic Relations chapter of the San Francisco Bay Area. As the office's Civil Rights and Legal Services Coordinator, he assists individuals facing structural and private discrimination, hate crimes, law enforcement harassment/surveillance as well as documenting and writing reports.