Events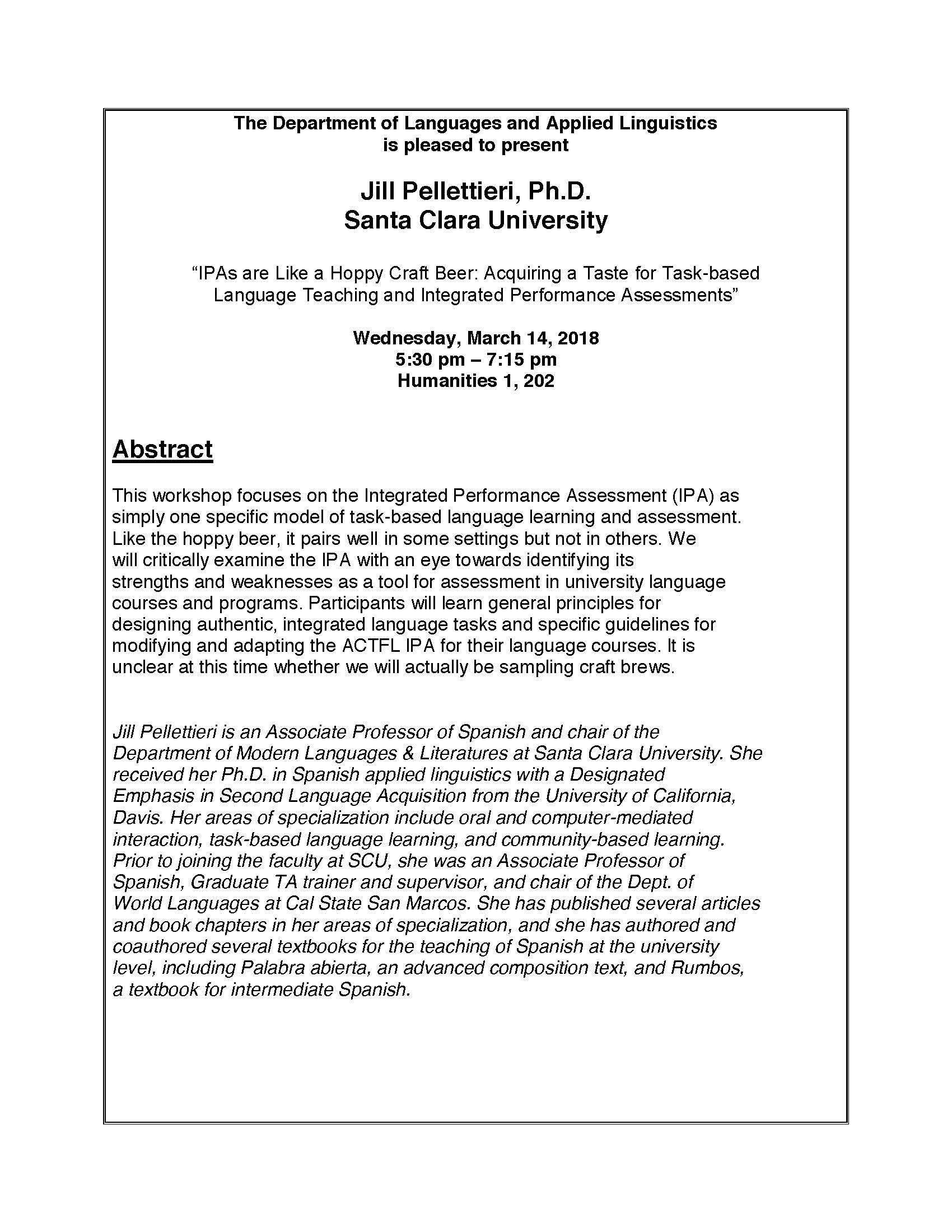 IPAs are like a Hoppy Craft Beer: Acquiring a Taste for Task-based Language Teaching and Integrated Performance Assessments
March 14, 2018 @ 5:30 pm

-

7:15 pm

| Humanities 1, Room 202

Free
Share
The Department of Languages and Applied Linguistics is pleased to present:
"IPAs are Like a Hoppy Craft Beer: Acquiring a Taste for Task-based Language Teaching and Integrated Performance Assessments"
Jill Pellettieri, Ph.D.
This workshop focuses on the Integrated Performance Assessment (IPA) as simply one specific model of task-based language learning and assessment. Like the hoppy beer, it pairs well in some settings but not in others. We will critically examine the IPA with an eye towards identifying its strengths and weaknesses as a tool for assessment in university language courses and programs. Participants will learn general principles for designing authentic, integrated language tasks and specific guidelines for modifying and adapting the ACTFL IPA for their language courses. It is unclear at this time whether we will actually be sampling craft brews.
Jill Pellettieri is an Associate Professor of Spanish and chair of the Department of Modern Languages & Literatures at Santa Clara University. She received her Ph.D. in Spanish applied linguistics with a Designated Emphasis in Second Language Acquisition from the University of California, Davis. Her areas of specialization include oral and computer-mediated interaction, task-based language learning, and community-based learning. Prior to joining the faculty at SCU, she was an Associate Professor of Spanish, Graduate TA trainer and supervisor, and chair of the Dept. of World Languages at Cal State San Marcos. She has published several articles and book chapters in her areas of specialization, and she has authored and coauthored several textbooks for the teaching of Spanish at the university level, including Palabra abierta, an advanced composition text, and Rumbos, a textbook for intermediate Spanish.