Events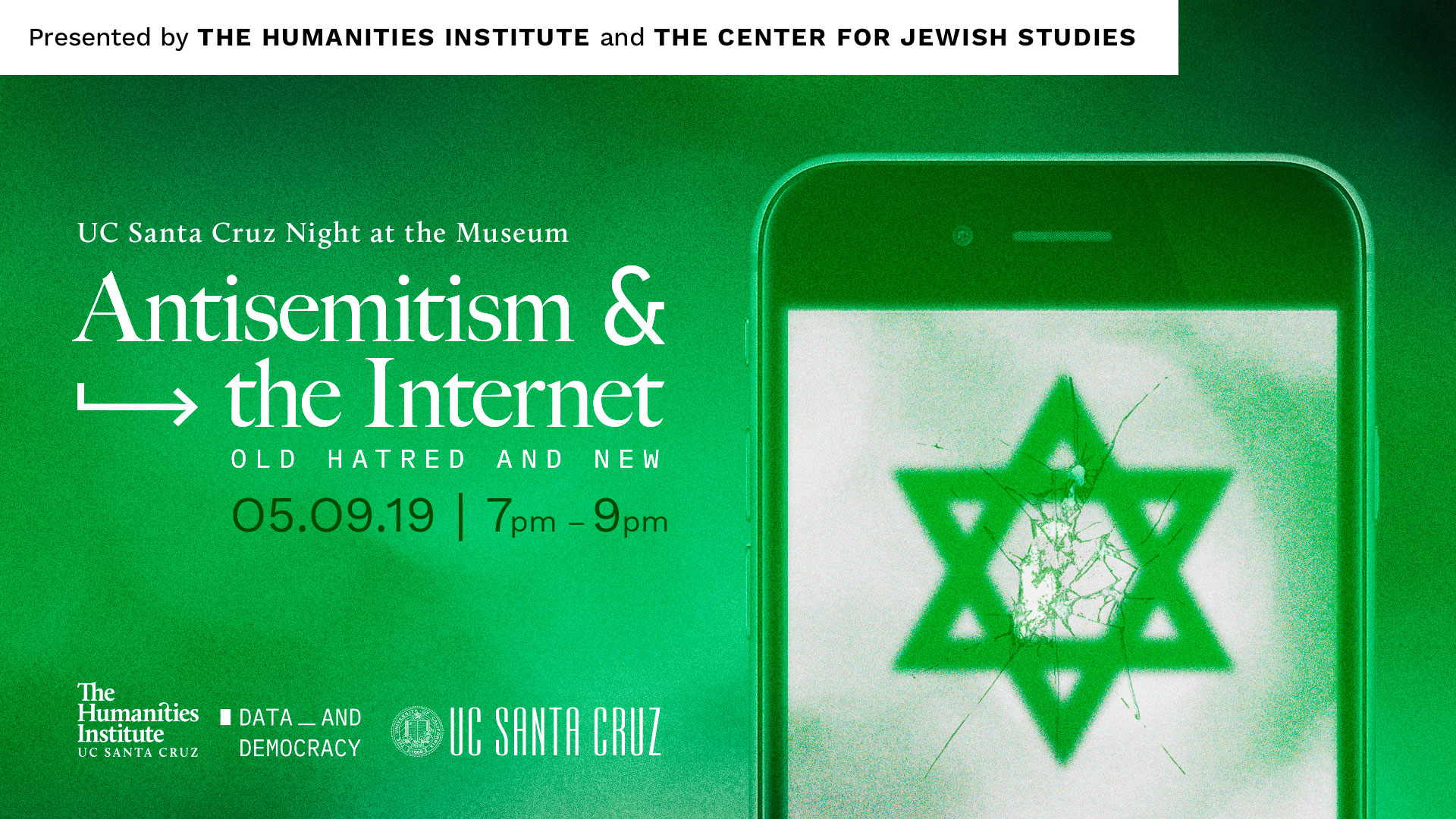 Antisemitism and the Internet: Old Hatred and New
May 9, 2019 @ 7:00 pm

-

9:00 pm

|
Share
Event Photos by Paul Schraub:
If you have trouble viewing above images, you may view this album directly on Flickr.
As Ian Bogost noted in The Atlantic this week, recent events have shown that internet technologies facilitate the rapid spread of forms of bigotry and hatred, and the planning of violent terror attacks.
This year's UC Santa Cruz Night at the Museum seeks to explore the relationship between these technologies and antisemitism, asking: Is there something new about antisemitism today or is it just a continuation of old images and fears? How do social media platforms create environments for the viral spread of global antisemitism?
Join Nathaniel Deutsch and Rachel Deblinger, co-directors of the Digital Jewish Studies Initiative at UC Santa Cruz, to discuss these questions and explore how scholars of antisemitism can work closely with members of the tech community to fight against this and related forms of hatred toward others.

Registration Required
Doors open at 6:30pm. Program begins at 7:00pm.
If you have disability-related needs, please contact the THI at thi@ucsc.edu or call 831-459-1274 by May 6, 2019.
Event info:
Registration is required for entrance into this event.
Doors open at 6:30pm. Program begins at 7:00pm.
Directions to the Computer History Museum are here.
Security:
Please be aware that all attendees must pass through security to enter the event venue. Make sure to carefully review the below information to ensure your entry to the event.
There will be no in and out privileges. Once you have passed through security, if you leave the venue re-entry will not be permitted.
All bags are subject to search. Prohibited items include weapons, drugs, and knives of any kind. Anything deemed unsafe by the security team will not be permitted to enter the venue.
All bags, including briefcases, purses, luggage and diaper bags, larger than 14" x 14" x 6" are not permitted. Backpacks and hard-sided bags of any kind are also prohibited. Single-compartment drawstring bags and fashion backpack purses that are smaller than 14" x 14" x 6" are permitted.