Events

Brandi Thompson Summers – Spatial Temporalities: The Future-Pasts of Black Dispossession
April 20, 2022 @ 12:15 pm

-

1:30 pm

| Virtual and In Person
Share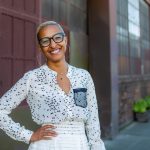 In this talk, Dr. Summers explores the history of unhoused populations in Oakland, the cyclical displacements of Black locals, and the appearance and reappearance of parking lots in these stories of disruption. She tells the story of West Oakland, in particular, as a testing ground for speculative urbanism–an urbanism based not in speculator's profit or the spectacles of a city's self-branding, but in the utopian and dystopian possibilities that unfold in an ongoing (implicitly and explicitly racialized) housing emergency. This event will be fully remote, with attendance only via Zoom.

The Center for Cultural Studies hosts a weekly Wednesday colloquium featuring work by faculty and visitors. We gather at 12:00 PM, with presentations beginning at 12:15 PM.
For Spring 2022, the colloquium will take a hybrid format, with the option of in-person or virtual attendance. Attendees have the option to attend in person in Humanities 210 or to watch the presentation on zoom. To attend remotely via zoom, please RSVP in advance, and you will receive a zoom link on the morning of the colloquium. In most cases, speakers will appear remotely so that they will not have to present wearing a mask. To RSVP for the full Spring colloquium series, please use this form. If you have any questions about the colloquium, please contact Piper Milton (cult@ucsc.edu).
Staff assistance is provided by The Humanities Institute.