Events

CANCELED – Dean Mathiowetz – Luxuriating as a Political Structure of Feeling
November 16, 2022 @ 12:15 pm

| Humanities 1, Room 210
Share
This event has been cancelled, please stay tuned for a future date for this event.
According to premodern elites, the luxurious appetites of the poor were not only feminine and exotic but also the greatest threat to social order. Popular demands for better wages, sustenance, more festival days, or any improvement in the conditions of ordinary folk were denounced as "luxury." But scholarship about this discourse has been misdirected by premodern sumptuary laws, focusing on luxury as a class of things. I focus on the act of luxuriating instead, drawing out its embodied, affective, and tactical dimensions as a "structure of feeling." I argue that a focus on luxuriating opens our thought to the political potential in the physical, sensory, and lived experience of the poor as they lay claim to enjoyment and abundance.
Dean Mathiowetz is Associate Professor of Politics, currently working on a book manuscript Luxuriating in Democracy, Abundance, and the Enjoyment of Bodies Politic. He is the author of Appeals to Interest: Language and the Shaping of Political Agency and the editor of and contributor to Hanna Fenichel Pitkin: Politics, Justice, and Action. His other writings have appeared in journals including Political Theory, Theory and Event, Political Research Quarterly, The New Political Science, and The Arrow.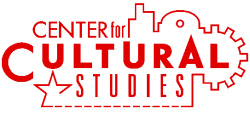 The Center for Cultural Studies hosts a weekly Wednesday colloquium featuring work by faculty and visitors. We gather at 12:00 PM, with presentations beginning at 12:15 PM.
Staff assistance is provided by The Humanities Institute.