Events

Chih-ming Wang – Retelling Chinese Stories in the Era of Global China: On Ha Jin's Immigrant Novels
November 9, 2022 @ 4:00 pm

-

6:00 pm

| Humanities 1, Room 210
Share
Examining Ha Jin's immigrant novels in the crossfires of US-China competition, this talk proposes post/Cold War entanglements as a critical frame for reconsidering Asian American studies today. It argues that attention to Chineseness as a political, rather than cultural, construct is more urgent than ever. Ha Jin's emphasis on immigration as freedom in his novels offers an opportune occasion for examining how Cold War geopolitics persists in and through Chinese America, and how the Chinese American immigrant subjectivity may be politicized to fuel anti-China politics today, especially in the context of US-China rivalry. His rearticulation of diasporic Chineseness based on the principle of freedom and individualism in the shadow of Global China encourages us to grapple with the poignancy of identity as a form of coercion and to reexamine the Cold War legacy of Asian America.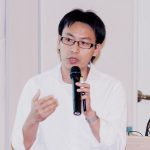 Chih-ming Wang is associate research fellow at the Institute of European and American Studies, Academia Sinica, Taiwan. He was a visiting scholar at the Harvard Yenching Institute (2021-22) and a visiting research fellow at the China Academy of Art in Hangzhou. He works in both transpacific American literature and inter-Asia cultural studies, concerned with the interplay of literature and geopolitics, and the colonial modernity of knowledge production in East Asia. He is the chief-editor of Router: A Journal of Cultural Studies and the author of two books: Transpacific Articulations: Student Migration and the Remaking of Asian America (UHP, 2013) and Re-Articulation: Trajectories of Foreign Literature Studies in Taiwan (Linking, 2021). He also co-edited with Yu-Fang Cho a special issue on "The Chinese Factor" for American Quarterly (2017). He is currently working on a book manuscript entitled "Multiple Returning: Post/Cold War Entanglements and Asian American Literature."
Presented by the Transnational China Research Hub.