Events

Mark Massoud – The Power of Positionality
November 9, 2022 @ 12:15 pm

| Humanities 1, Room 210
Share
What is the impact on and influence of the researcher in their scholarship? Drawing in part on Mark's empirical research and professional experience, this talk investigates the benefits and burdens of positionality. Positionality is the disclosure of how an author's racial, gender, class, or other self-identifications, experiences, and privileges influence research methods. A statement of positionality in a research article can enhance the validity of its empirical data and its theoretical contribution. However, such self-disclosure puts scholars in a vulnerable position, and those most likely to reveal how their positionality shapes their research are women, ethnic minorities, or both. At this stage of the field's methodological development, the burdens of positionality are being carried unevenly by a tiny minority of researchers. Massoud invites scholars to redress this imbalance by embracing expressions of positionality.
Mark Fathi Massoud is a Politics professor and the director of the Legal Studies Program here at UCSC. He also serves as affiliated faculty with the Center for the Middle East and North Africa. He is the author of two books that address the interplay of law, politics, and religion — and he is currently editing a volume on positionality. Mark's most recent book is Shari'a, Inshallah (Cambridge University Press 2021). Shari'a, Inshallah received four awards: the Hart-SLSA Book Prize from the Socio-Legal Studies Association, the Distinguished Book Award from the American Sociological Association Section on Religion, the Ralph J. Bunche Award for the best book on ethnic and cultural pluralism from American Political Science Association — and it was a Finalist for the PROSE Award for the best book in government and politics published last year, from the Association of American Publishers. Mark is also the author of Law's Fragile State (Cambridge University Press 2013), which earned awards from the American Political Science Association and the Law and Society Association. Mark holds an appointment as a Visiting Professor at Oxford University. He received a Guggenheim Fellowship in 2015.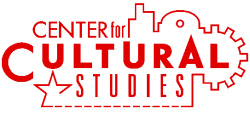 The Center for Cultural Studies hosts a weekly Wednesday colloquium featuring work by faculty and visitors. We gather at 12:00 PM, with presentations beginning at 12:15 PM.
Staff assistance is provided by The Humanities Institute.