Events

Christopher Silver – Recording History: Jews, Muslims, and Music across Twentieth-Century North Africa
April 3 @ 12:00 pm

-

1:30 pm

|
Share
In Recording History, Christopher Silver provides the first history of the music scene and recording industry across twentieth century Morocco, Algeria, and Tunisia. In doing so, he offers striking insights into Jewish-Muslim relations through the rhythms that animated them. For more than six decades, thousands of phonograph records flowed across North African borders. The sounds embedded in their grooves were shaped in large part by Jewish musicians, who gave voice to a changing world around them. Their popular songs broadcast on radio, performed in concert, and circulated on disc carried with them the power to delight audiences, stir national sentiments, and frustrate French colonial authorities. In asking what North Africa once sounded like, Silver will introduce the UCSC community to a world of many voices, whose music defined their era and still resonates into our present.
Christopher Silver is the Segal Family Assistant Professor in Jewish History and Culture in the Department of Jewish Studies at McGill University. He earned his PhD in History from UCLA. Recipient of grants from the Posen Foundation, the American Academy of Jewish Research, the American Institute for Maghrib Studies, and the Association for Recorded Sound Collections, Silver is the author of numerous articles on North African history and music, including in the International Journal of Middle East Studies, Jewish Social Studies, and Hespéris-Tamuda. He is also the founder and curator of the website Gharamophone.com, a digital archive of North African records from the first half of the twentieth century. His first book Recording History: Jews, Muslims, and Music Across Twentieth Century North Africa was published in June 2022 with Stanford University Press.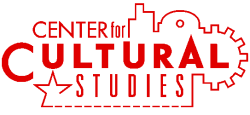 The Center for Cultural Studies hosts a weekly Wednesday colloquium featuring work by faculty and visitors. We gather at 12:00 PM, with presentations beginning at 12:15 PM.
RSVP by 11 AM on the day of the colloquium, and you will receive the Zoom link and password at 11:30 AM.
Staff assistance is provided by The Humanities Institute.