Events

Abou Farman — Terminality as Performance
February 24, 2021 @ 12:15 pm

-

1:30 pm

| Virtual Event
Share
Over the last eight months, the lines separating private from public domains of grief, protest from mourning, dying from being killed, the dead from the living, the fleshly from the pixellated, have been blurred. Through sound, theory, image, and affect, Farman and his collaborators explore some practices of daily resurrection and critical mourning.

RSVP by 11 AM (PST) on Wednesday, February 24th; you will receive Zoom link and password at 11:30 AM the day of the colloquium.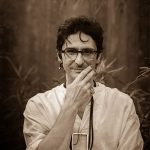 Abou Farman is an anthropologist, writer and artist. He is the author of On Not Dying: Secular Immortality in the Age of Technoscience (2020, University of Minnesota Press) and Clerks of the Passage (2012, Linda Leith Press). He is Assistant Professor of Anthropology at The New School for Social Research and founder of Art Space Sanctuary as well as the Shipibo Conibo Center of New York. As part of the artist duo caraballo-farman, he has exhibited internationally. He is producer and co-writer on several feature films, most recently Icaros: A Vision.
The Center for Cultural Studies hosts a weekly Wednesday colloquium featuring work by faculty and visitors. We gather online at 12:10 PM, with presentations beginning at 12:15 PM.
Staff assistance is provided by the Humanities Institute.
*2020-2021 colloquia will be held virtually until further notice. Attendees are encouraged to bring their own coffee, tea, and cookies to the session.