Events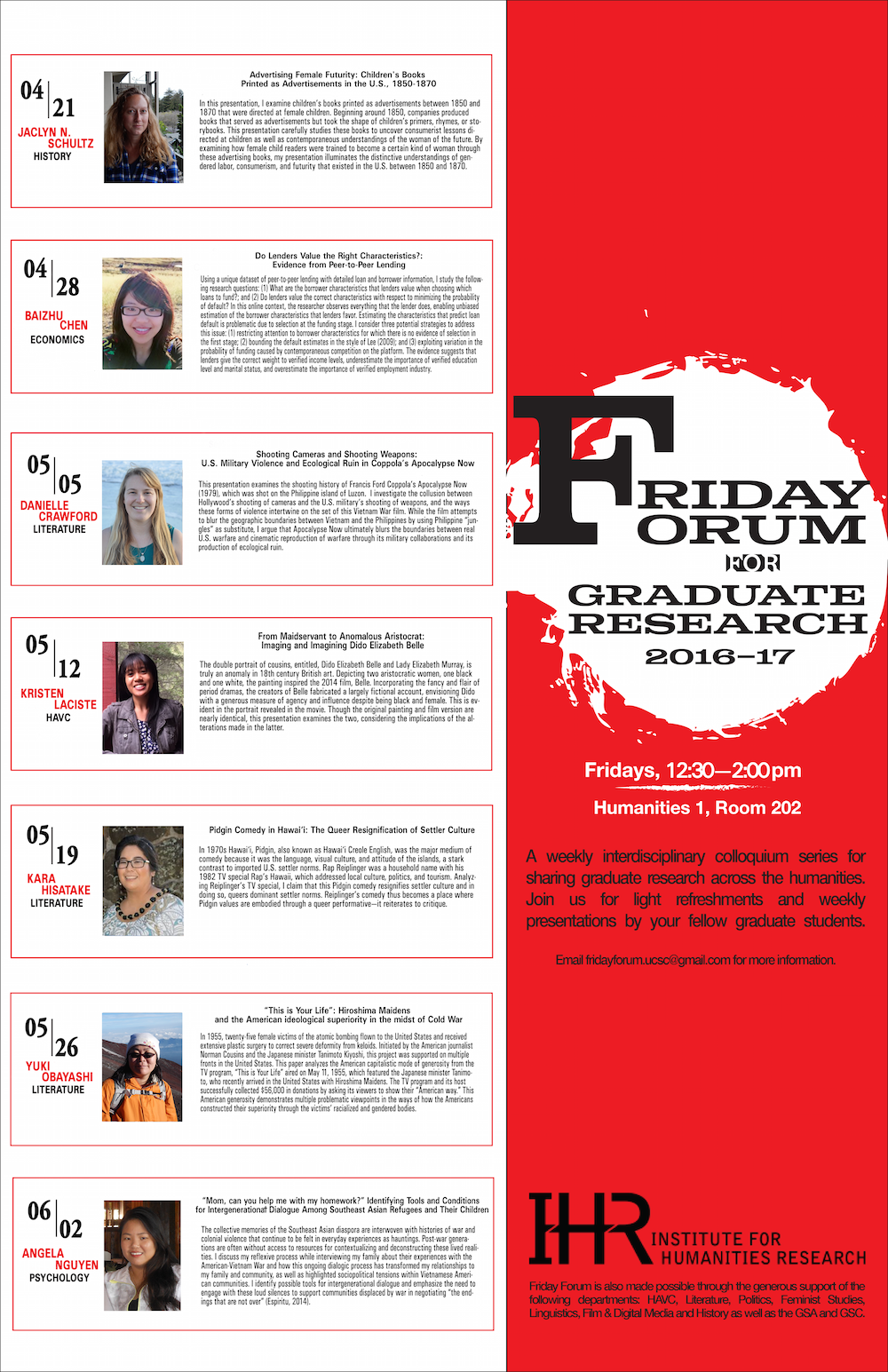 Friday Forum for Graduate Research: Jaclyn N. Schultz
April 21, 2017 @ 12:20 pm

-

2:00 pm

| Humanities 1, Room 202
Share
Advertising Female Futurity: Children's Books Printed as Advertisements in the U.S., 1850-1870
In this presentation, I examine children's books printed as advertisemtns between 1850 and 1870 that were directed at female children. Beginning around 1850, companies produced books that served as advertisements but took the shape of children's primers, rhymes, or storybooks. This presentation carefully studies these books to uncover consumerist lessons directed at children as well as contemporaneous understandings of the women of the future. By examining how female child readers were trained to become a certain kind of women through these advertising books, my presentation illuminates the distinctive understanding of gendered labor, consumerism, and futurity that existed in the U.S. between 1850 and 1870.
Friday Forum Spring quarter 2017 Schedule:
Fridays 12:20-2pm
Humanities 1 Room 202
A weekly interdisciplinary colloquium series for sharing graduate research across the humanities. Join us for light refreshments and weekly presentations by your fellow graduate students.
April 21, 2017: Jaclyn N. Schultz, History
April 28, 2017: Baizhu Chen, Economics
May 5, 2017: Danielle Crawford, Literature
May 12, 2017: Kristen Laciste, HAVC
May 19, 2017: Kara Hisatake, Literature
May 26, 2017: Yuki Obayashi, Literature
June 2, 2017: Angela Nguyen, Psychology