Events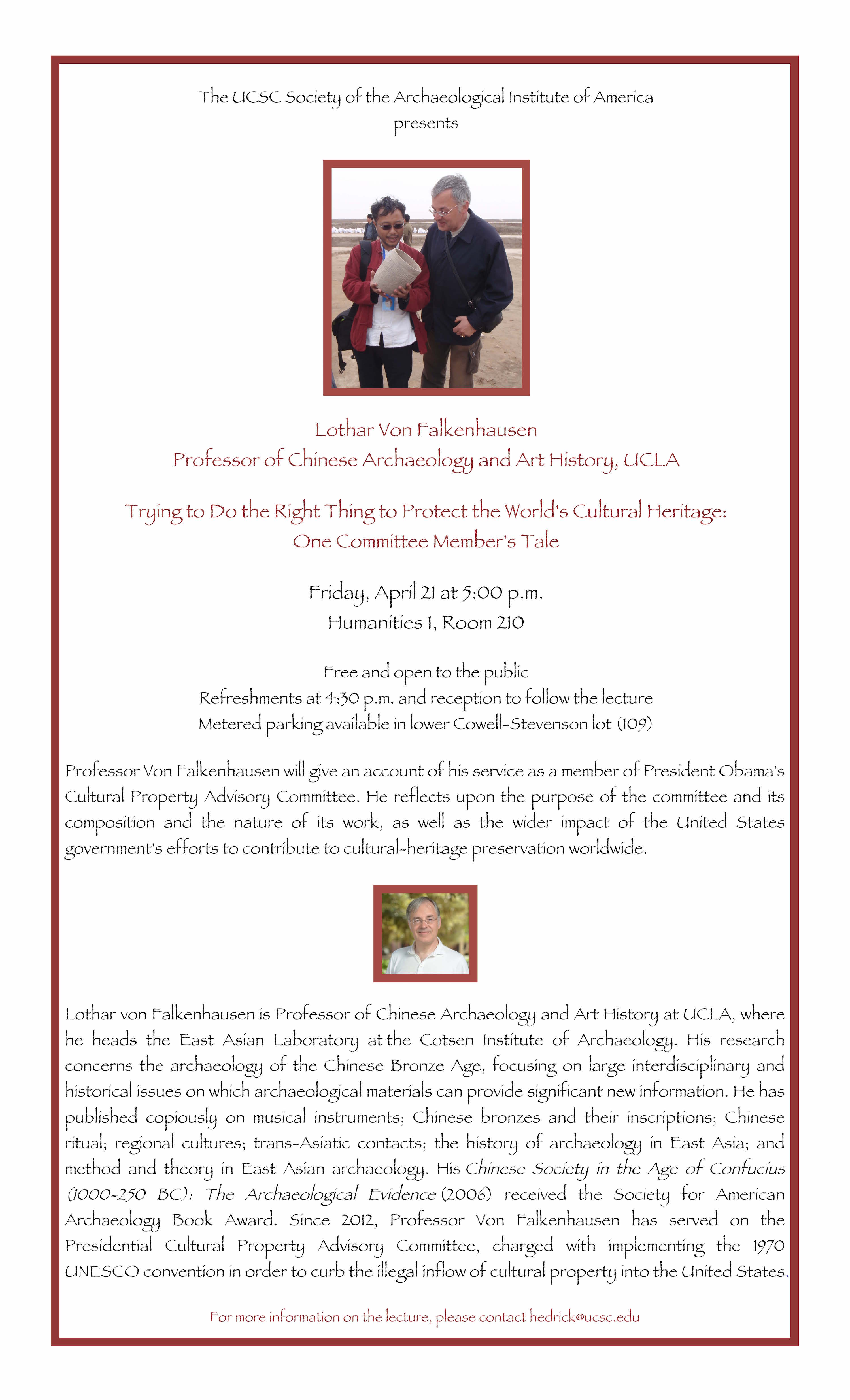 Lothar Von Falkenhausen: "Trying to Do the Right Thing to Protect the World's Cultural Heritage: One Committee Member's Tale"
April 21, 2017 @ 5:00 pm

-

7:00 pm

| Stevenson Fireside Lounge
Share
The UCSC Society of the Archaeological Institute of America presents
Lothar Von Falkenhausen
Professor of Chinese Archaeology and Art History, UCLA
Trying to Do the Right Thing to Protect the World's Cultural Heritage:
One Committee Member's Tale
Friday, April 21 at 5:00 p.m.
Humanities 1, Room 210
Free and open to the public
Refreshments at 4:30 p.m. and reception to follow the lecture
Professor Von Falkenhausen will give an account of his service as a member of President Obama's
Cultural Property Advisory Committee. He reflects upon the purpose of the committee and its
composition and the nature of its work, as well as the wider impact of the United States
government's efforts to contribute to cultural-heritage preservation worldwide.
Lothar von Falkenhausen is Professor of Chinese Archaeology and Art History at UCLA, where
he heads the East Asian Laboratory at the Cotsen Institute of Archaeology. His research
concerns the archaeology of the Chinese Bronze Age, focusing on large interdisciplinary and
historical issues on which archaeological materials can provide significant new information. He has
published copiously on musical instruments; Chinese bronzes and their inscriptions; Chinese
ritual; regional cultures; trans-Asiatic contacts; the history of archaeology in East Asia; and
method and theory in East Asian archaeology. His Chinese Society in the Age of Confucius
(1000-250 BC): The Archaeological Evidence (2006) received the Society for American
Archaeology Book Award. Since 2012, Professor Von Falkenhausen has served on the
Presidential Cultural Property Advisory Committee, charged with implementing the 1970
UNESCO convention in order to curb the illegal inflow of cultural property into the United States.
For more information on the lecture, please contact hedrick@ucsc.edu
Metered parking available in lower Cowell-Stevenson lot (109)