Events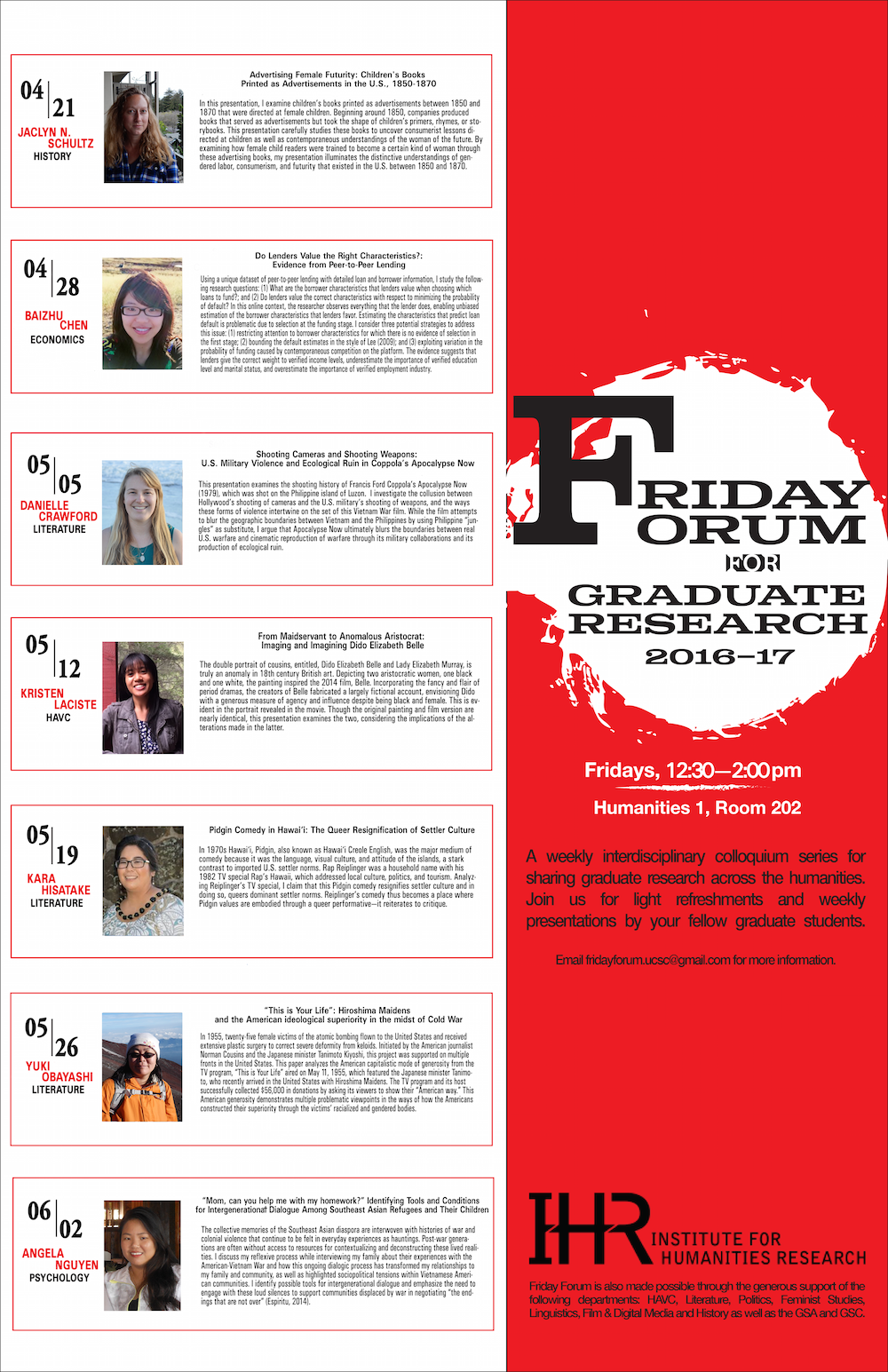 Friday Forum for Graduate Research: Yuki Obayashi
May 26, 2017 @ 12:00 pm

-

2:00 pm

| Humanities 1, Room 202
Share
"This is Your Life": Hiroshima Maidens and the American ideological superiority in the midst of the Cold War
In 1955, twenty-five female victims of the atomic bombing flown to the United States and received extensive plastic surgery to correct severe deformity from keloids. Initiated by the American journalist Norman Cousins and the Japanese minister Tanimoto Kiyoshi, this project was supported on multiple fronts in the United States. This paper analyzed the American capitalistic mode of generosity from the TV program, "This is Your Life" aired on May 11, 1955, which featured the Japanese minister Tanimoto, who recently arrived in the United States with Hiroshima Maidens. The TV program and its host successfully collected $56,000 in donations by asking its viewers to show their "American way". This American way generosity demonstrated multiple problematic viewpoints in the ways of how the Americans constructed their superiority through the victims' radicalized and gendered bodies.
Friday Forum Spring quarter 2017 Schedule:
Fridays 12:30-2pm
Humanities 1 Room 202
A weekly interdisciplinary colloquium series for sharing graduate research across the humanities. Join us for light refreshments and weekly presentations by your fellow graduate students.
April 21, 2017: Jaclyn N. Schultz, History
April 28, 2017: Baizhu Chen, Economics
May 5, 2017: Danielle Crawford, Literature
May 12, 2017: Kristen Laciste, HAVC
May 19, 2017: Kara Hisatake, Literature
May 26, 2017: Yuki Obayashi, Literature
June 2, 2017: Angela Nguyen, Psychology