Events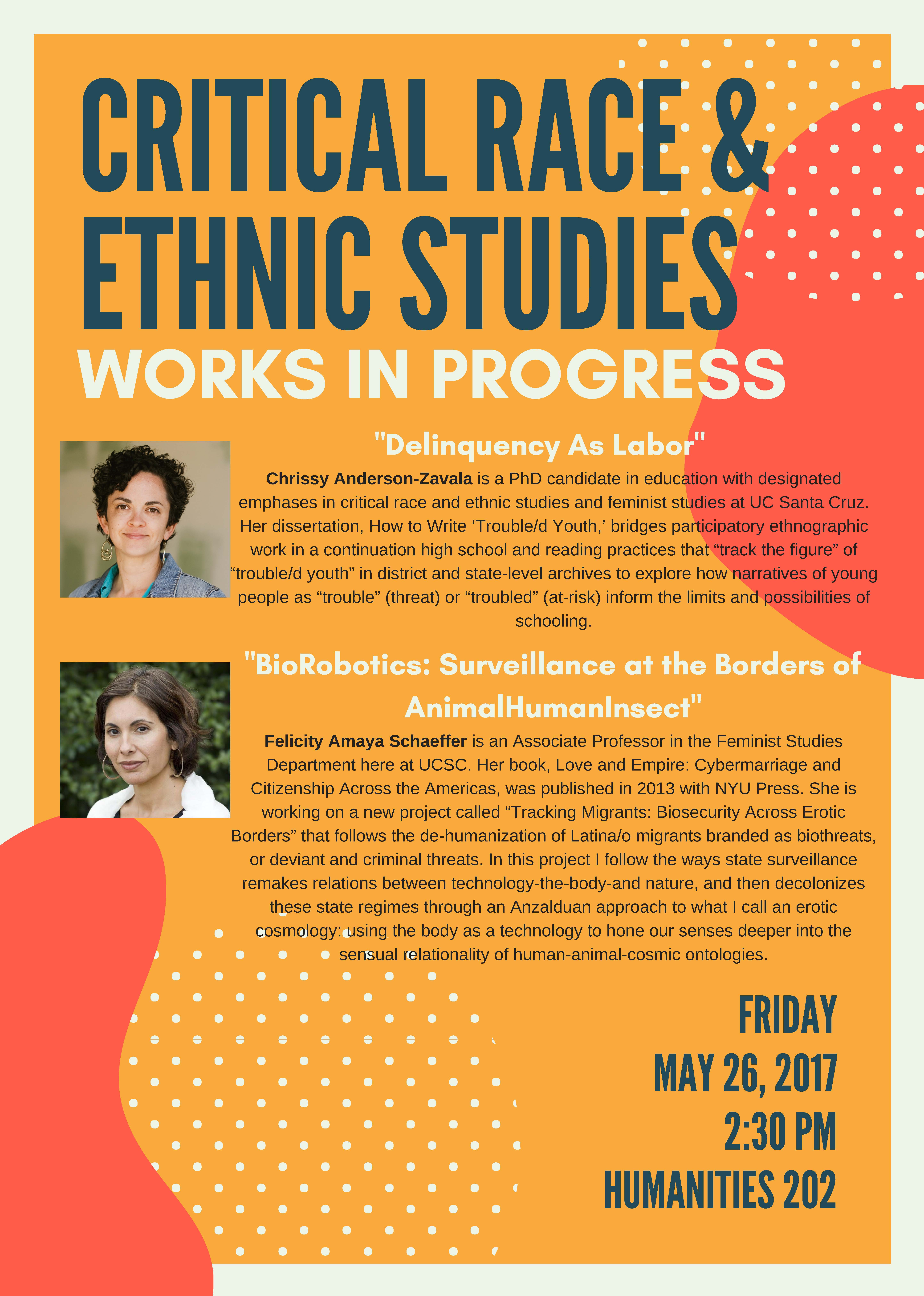 Critical Race & Ethnic Studies Works In Progress
May 26, 2017 @ 2:30 pm

-

3:30 pm

| Humanities 1, Room 202

Free
Share
"Delinquency As Labor"
Chrissy Anderson-Zavala
Chrissy Anderson-Zavala is a PhD candidate in education with designated emphases in critical race and ethnic studies and feminist studies at UC Santa Cruz. Her dissertation, How to Write 'Trouble/d Youth,' bridges participatory ethnographic work in a continuation high school and reading practices that "track the figure" of "trouble/d youth" in district and state-level archives to explore how narratives of young people as "trouble" (threat) or "troubled" (at-risk) inform the limits and possibilities of schooling.
"BioRobotics: Surveillance at the Borders of AnimalHumanInsect"
Felicity Amaya Schaeffer
Felicity Amaya Schaeffer is an Associate Professor in the Feminist Studies Department here at UCSC. Her book, Love and Empire: Cybermarriage and Citizenship Across the Americas, was published in 2013 with NYU Press. She is working on a new project called "Tracking Migrants: Biosecurity Across Erotic Borders" that follows the de-humanization of Latina/o migrants branded as biothreats, or deviant and criminal threats. In this project I follow the ways state surveillance remakes relations between technology-the-body-and nature, and then decolonizes these state regimes through an Anzalduan approach to what I call an erotic cosmology: using the body as a technology to hone our senses deeper into the sensual relationality of human-animal-cosmic ontologies.