Events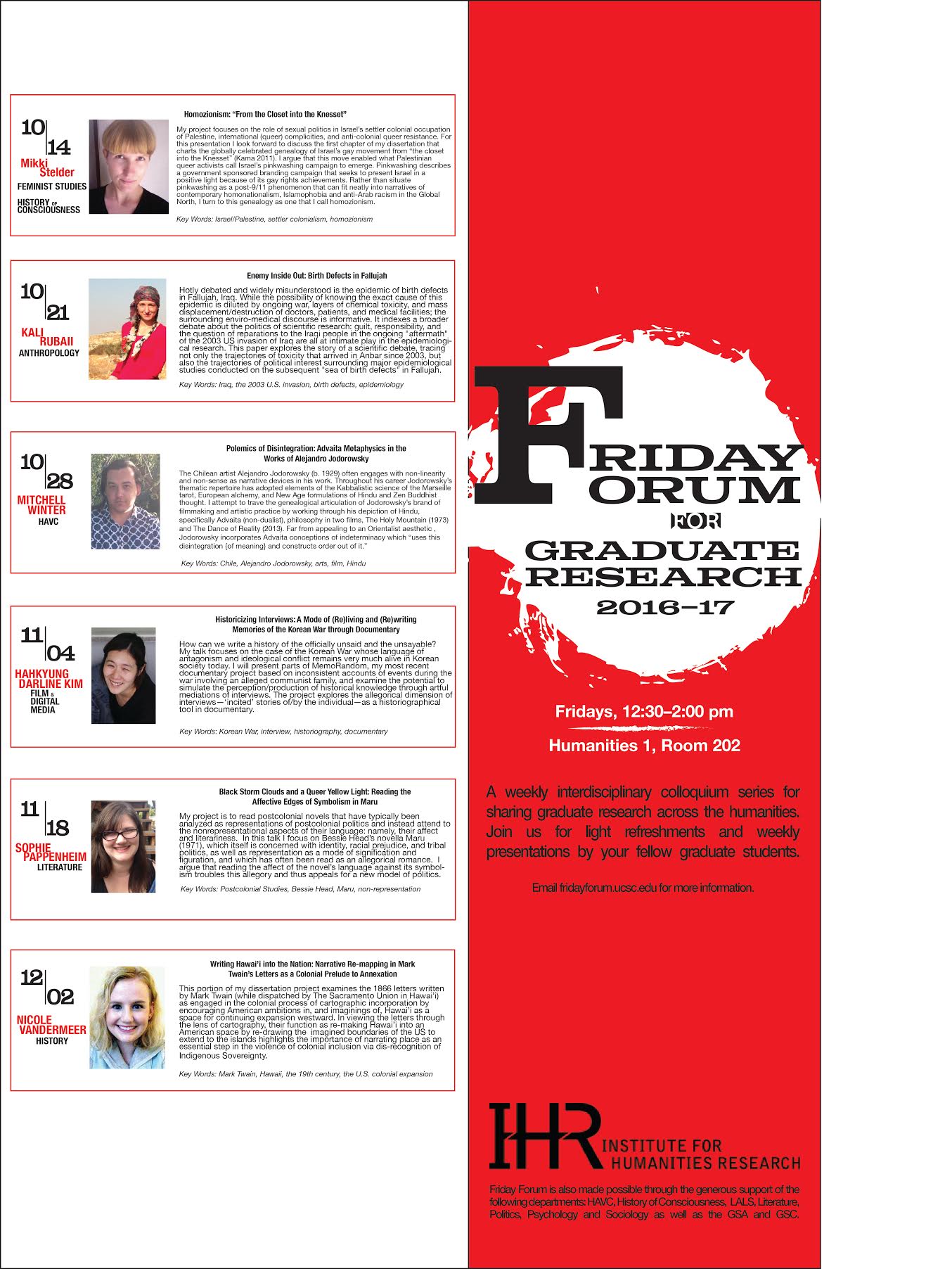 Friday Forum for Graduate Research: Mikki Stelder
October 14, 2016 @ 12:30 pm

-

2:00 pm

| Humanities 1, Room 202

Free
Share
"Homozionism: 'From the Closet into the Knesset'"
My project focuses on the role of sexual politics in Israel's settler colonial occupation of Palestine, international (queer) complicities, and anti-colonial queer resistance. For this presentation I look forward to discuss the first chapter of my dissertation that charts the globally celebrated genealogy of Israel's gay movement from "the closet into the Knesset" (Kama 2011). I argue that this move enabled what Palestinian queer activist call Israel's pinkwashing campaign to emerge. Pinkwashing describes a government sponsored branding campaign that seeks to present Israel in a positive light because of its gay rights achievements. Rather than situate pinkwashing as a post-9/11 phenomenon that can fit neatly into narratives of contemporary homonationalism, Islamphobia and anti-Arab racism in the Global North, I turn to this genealogy as one that I call homozionism.
---
Friday Forum Fall 2016 Schedule:
Fridays 12:20-2pm
Humanities 1 Room 202
A weekly interdisciplinary colloquium series for sharing graduate research across the humanities. Join us for light refreshments and weekly presentations by your fellow graduate students.
October 14th- Mikki Stedler, Feminist Studies and History of Consciousness
October 21st- Kali Rubaii, Anthropology
October 28th- Mitchell Winter, HAVC
November 6th- Hahkyung Darline Kim, Film and Digital Media
November 18th- Sophi Pappenheim, Literature
December 2nd- Nicole Vandermeer, History