Events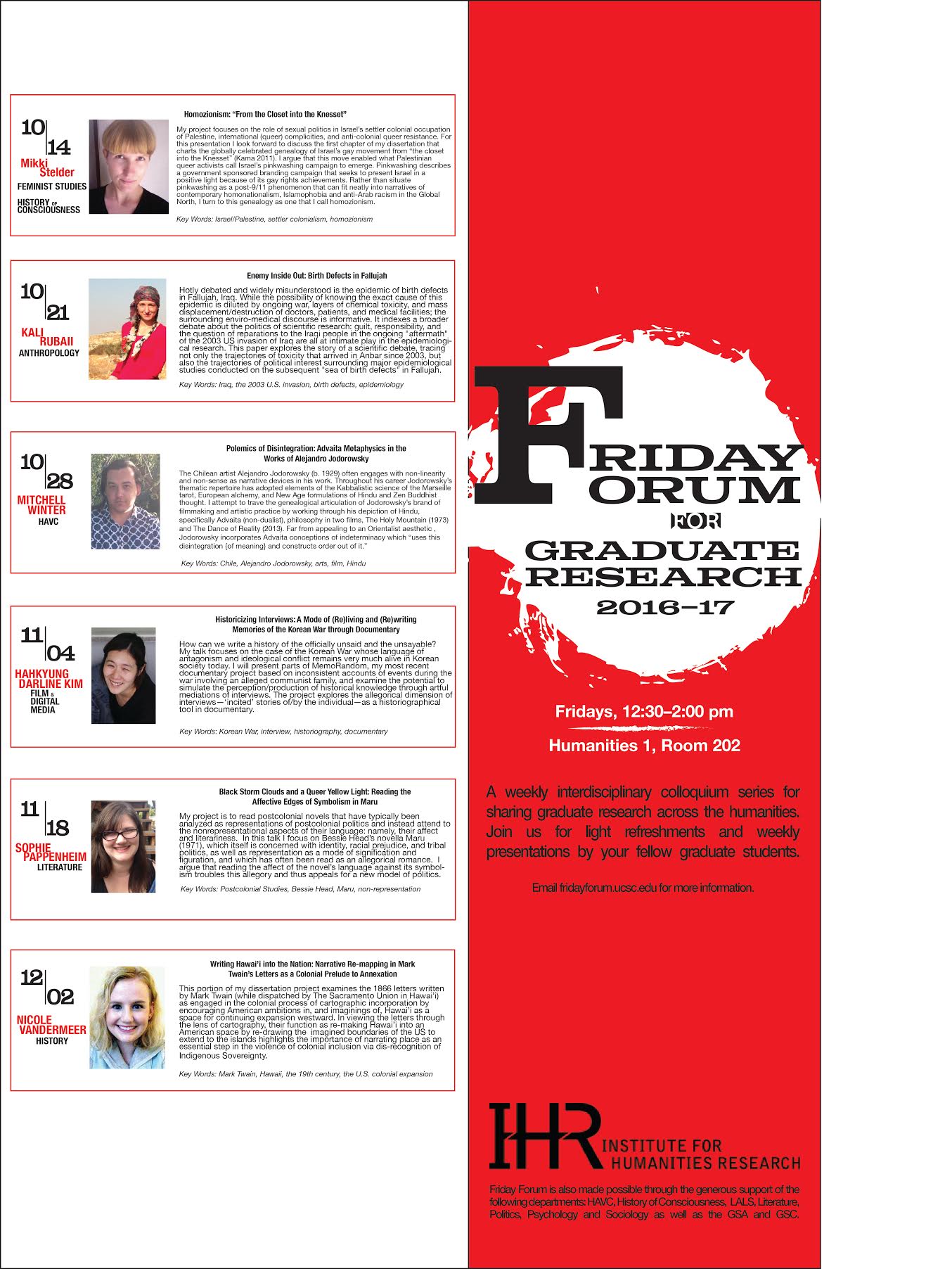 Friday Forum for Graduate Research: Nicole Vandermeer
December 2, 2016 @ 12:30 pm

-

2:00 pm

| Humanities 1, Room 202

Free
Share
"Writing Hawai'i into the Nation: Narrative Re-mapping in Mark Twain's Letter's s a Colonial Prelude to Annexation"
This portion of my dissertation project examines the 1866 letters written by Mark Twain (while dispatched by The Sacramento Union in Hawai'i) as engaged in the colonial process of cartographic incorporation by encouraging American ambitions in, and imaginings of, Hawai'i as a space for continuing expansion westward. In viewing the letters through the lens of cartography, their function as re-making Hawai'i into an American space by re-drawing the imagined boundaries of the US to extend to the islands highlights the importance of narrating place as an essential step in the violence of colonial inclusion via dis-recognition of Indigenous Sovereignty.
---
Friday Forum Fall 2016 Schedule:
Fridays 12:20-2pm
Humanities 1 Room 202
A weekly interdisciplinary colloquium series for sharing graduate research across the humanities. Join us for light refreshments and weekly presentations by your fellow graduate students.
October 14th- Mikki Stelder, Feminist Studies and History of Consciousness
October 21st- Kali Rubaii, Anthropology
October 28th- Mitchell Winter, HAVC
November 4th- Hahkyung Darline Kim, Film and Digital Media
November 18th- Sophi Pappenheim, Literature
December 2nd- Nicole Vandermeer, History